deepundergroundpoetry.com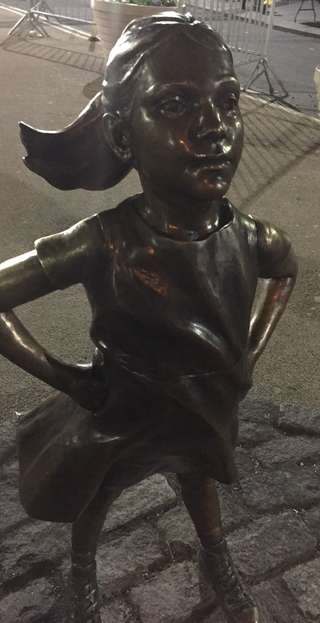 ... more lullabies for Maddi ...  
Grandma told Mami I'd be born  
under the light of a full moon    
That I'd make swirls in the Milky Way    
with just a swish of my spoon    
 
Now I pluck stars from above to make my black hair glow    
I blow kisses to the rain because they make the flowers grow    
Then I go rescue the lost little worms who move to slow    
 
I tickle the sun for making my skin chocolate brown    
Then I rearrange the stars in my hair to form a crown    
 
Papi says I'll go to Australia  
so Uncle D will teach me to surf    
He says I was a natural born swimmer    
right from birth    
 
Whether I'm swimming    
Or flying    
Or gliding on chutes    
Papi says I should always remember    
My African roots    
 
Mami says I've never been    
Little    
And don't walk the path called    
Girl    
Just keep my eyes and heart open    
While I mesmerize the world ...  
 
 
 
Photograph taken by LSP
 
Note: Less than 12 hours after "seeing" the now iconic "Fearless Girl" statue in NYC, my Maddi was born on Easter Sunday.  Her name Maddison is a derivation of Matthew.  
 
Matthew 19:14  
 
14 Jesus said, "Let the little children come to me, and do not hinder them, for the kingdom of heaven belongs to such as these."
 
All writing remains the property of the author. Don't use it for any purpose without their permission.
likes

8

reading list entries

3
Commenting Preference:
The author is looking for friendly feedback.