deepundergroundpoetry.com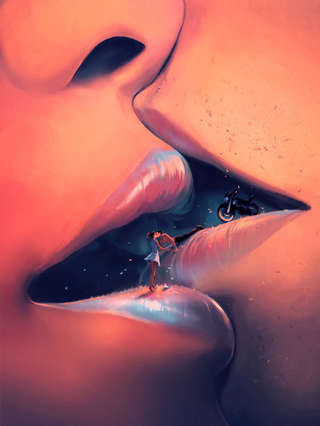 Enter our first, and our last
Emerald irises began to undress my clothes,
dressing me in temptatious decorum.

An alluring scent was dancing on my nose,
this is what ecstasy would smell like,
limitless euphoria.

Our fingers locked,
as our nightmares of abandonment
shuttered into the distance.

Our pulses became our own hidden language.

Insecurities trickle away as my lips massaged
her spine.

Feeling her torso tense up,
as my fingertips caressed it.

Sliding my tongue up and down her stomach,
collecting our sweat, and devotion to one another.

My hands become her pants upon her thighs,
providing warmth, as I gently kiss and suck
on her pelvis;
while her fingers nestle in my brunette hair.

Feeling her warm provocative ass in my palms,
as my buoyant scarlet lips travel pass her
pelvic region.

My teeth began to nibble on her nipples,
as my tongue cycled around her aerolas.

The moaning of a thousand echoes loured me in for a kiss.
My breath perches upon her ears,
as lips press upon them.

She began to stroke away my conviction,
with her angelic fingertips,
solidifying a lustful bond.

I grabbed her by her thighs,
hoisting into the air of the unknowing.
"Love is a memory most want,
love is something I need", were the words
that escaped my hopeful mouth.

I slowly began to insert my essence into
the corridors of freedom,
releasing our pent up passion.

She held onto my back,
as if I was a life preserver.

"Don't let me vanish
into the unforgotten,
cherish me, like your last breath",
were the words that effortlessly dressed
my ears in reassurance.

I began to pull back her bottom lip with my lips,
as our sweat became the audience,
and our moans were their reactions.

Her hands looked for the sheets,
but my palms replaced them with trust.

She tried to moan, but I felt selfish,
so I kissed her to snatch her moment of release.
All writing remains the property of the author. Don't use it for any purpose without their permission.
likes

1

reading list entries

0
Commenting Preference:
The author encourages honest critique.