deepundergroundpoetry.com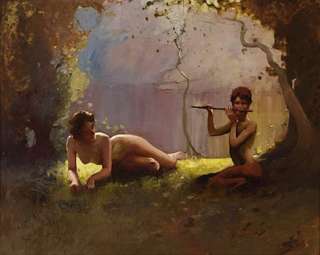 I Play
She knows not that I watch her soul

smiling idly out behind eyes blue flecked

with bits of gold.

I play a light and airy tune with wood and wind

Nestled deep in forest glen,

Just for her, as always promised.

Notes ride the air,

seeking purchase within her mind to push aside

a raven's deep abiding dark claim.

For there resides a tumultuous churning,

ever undulating

as I try and intertwine

and weave, a melody

with my fool's flute,

dipping an octave or

two going in.

Delicate…invisible…searching.

Enveloping.

Again, I spy your smile sneak out

as my delving takes.

And a shadow or two

that was once another you

loosens it purchase

and takes flight.
All writing remains the property of the author. Don't use it for any purpose without their permission.
likes

0

reading list entries

0
Commenting Preference:
The author encourages honest critique.