Content Warning : Do you want to continue?
This poem contains content which some readers may find disturbing.
It is unsuitable for children or anyone who is easily offended.
YES
I am over 18 years old, I have been warned and I still want to read this poem.
NO
I don't want to read this type of content, take me back to the previous page.
deepundergroundpoetry.com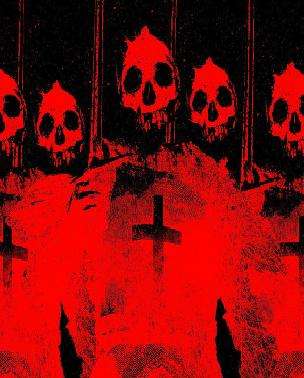 Lucifer's Kiss
your sneaky villainess
psycho hocus pocus
wont effect shit
with my three 666
bring it hunny
you told me to fuck you
while you fucked me
but hell has no fury
like a horny beast

how can I feel?
when this shit isnít real
numb and drained
tired of fucking giving
come a little closer bitch
give Lucifer a kiss
before he stabs your guts out
plays with your organs
sets your fucking skin on fire
then takes a noose around your fucking neck

you say Iím all wrong
I say Iím all used
also say youíre a fat drug addict
who has no real friendships
so you have to lick the assholes
of many cyber lesbians
queen bitch with inner hurt
king dick that wants to slit your fucking throat

so sing
one last song pixie stick
anything if it gets you off
you can love and I canít write
hahahhahaha!!
and say everything else you think I give a shit about
before you blow your fucking brains out

All writing remains the property of the author. Don't use it for any purpose without their permission.
likes

1

reading list entries

1
Commenting Preference:
The author has chosen not to accept comments.