Content Warning : Do you want to continue?
This poem contains content which some readers may find disturbing.
It is unsuitable for children or anyone who is easily offended.
YES
I am over 18 years old, I have been warned and I still want to read this poem.
NO
I don't want to read this type of content, take me back to the previous page.
deepundergroundpoetry.com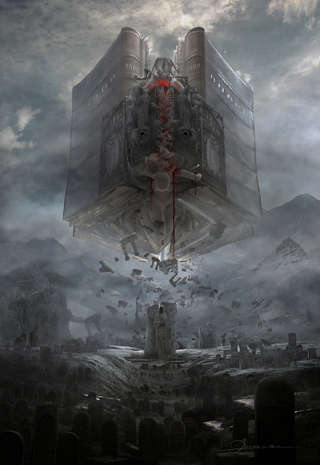 The Sermon of Mr. Brimstone Pt. X (Forbidden Eternal)
"We all feel the shit as it's licked away from our stanking draws
Transformed into our dark secrets that's displayed on transparent walls,
"Theft, molestation, murder or whatever is our living scorn
Destroying our reputation as our personal world burn,

"Some things get us excited like a man meeting a new bitch
Until it's discovered that she has a thick dick,
"Surprise motherfucker! Now our confused emotions is in an uproar
Either we gonna fuck that ass or head ashamed to the door,

"Back then the United Sates knew slavery was the money game
But present day they try to deny it. What a goddamn shame,
"Wanting to act like the atrocity did not exist
Next they will try to convince us its nutritional value in human piss,

 "Like the fact that a porn star will always fuck off on the job
While good sex to an atheist will make them call on God,
"If they don't believe why give acknowledgement to him for?
That's why the Devil's laughing as they pimp their soul like a whore,

 "Some use drugs to try to escape
But it's useless like a weak motherfucker trying to fight rape,
"Not only being about sex, but desire and control
Fearing the cumming storm that's signaled by the undesired swole,

"We should remember that our kill switch has already been set
Because from birth to death we will experience some form of wet,
"Living with unpredictable end time circumstances
Which only calculate to possible deadman chances,

"I preach this Brimstone shit-so you're welcome to be a critic
Because most of my sermons you motherfuckin live it,
"Undecided to either love it or motherfuckin hate it
Regardless of your decision your mind has been Brimstone lubricated,

"Because our road to riches is paved by hatin-ass bitches  
Granting us unlimited deadly dark genie wishes,
"Now digest that shit and put it in the collection plate
Will it be enough down payment for your eternal fate?"
All writing remains the property of the author. Don't use it for any purpose without their permission.
likes

2

reading list entries

0
Comment
Commenting Preference:
The author encourages honest critique.