deepundergroundpoetry.com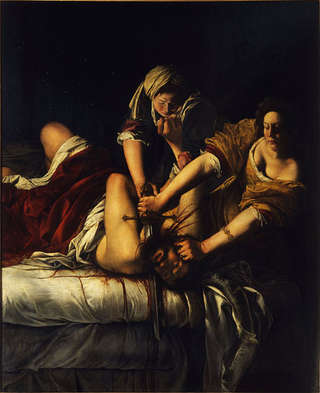 On Gentileschi's "Judith and Holofernes"
pictured: "Judith and Holofernes" by Artemisia Gentileschi (1593 - 1656)

The violation, most of all, is where the true
believer finds herself, a cruel and happy dame,
risen leagues above the stinking, sodden world,
where woman is meat and man is the trader.
She twists his fucking head, a Christmas goose,
and rips it from the root. All the pain of life
in its unbearables: its moments of unique torture,
externalised as this: his twisting fucking head.
The rapist of Bethulia, Holofernes, manliness
and strength embodied, becomes in his weakness,
his unspoken belief that other men
live in the shadow of the dead, an empty head.
His thoughts are flushed to Sheol. Judith kisses
her accomplice on the cheek, leaving blood behind.
All writing remains the property of the author. Don't use it for any purpose without their permission.
likes

6

reading list entries

0
Comment
Commenting Preference:
The author encourages honest critique.