deepundergroundpoetry.com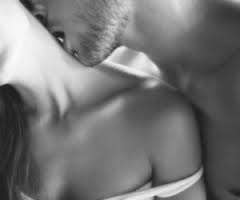 Lips dripping onto me, staining my body
The wind was bathing me in her scent,  
baffling my senses.    
     
Hips swinging in pendulum motion.    
     
Her eyes,    
droplets forming ripples    
into my puddle of madness.    
     
Fingers forming bridges,    
clicking and locking into place.    
     
Wrapping my tongue around hers,    
the chain of temptations was breaking.    
     
Opening my mouth, lips parting,    
whispers becoming the tour guide    
to her passion,      
injecting a higher dose of lust.    
     
Irises connected,    
souls were melting at the pot,    
molding our desires into one.    
     
She nestled her head onto    
my right shoulder,    
blanketing it with serenity.    
     
She exhaled her agony onto my neck,    
I tilted her chin up,      
holding it in place with my right thumb    
and index finger,    
inhaling her suffering,    
storing it into my spine,    
abolishing the unwanted.    
     
Fingertips were grazing my back,    
sculpting away her frustration.    
     
Massaging her left shoulder      
with my ruby lips,      
caressing and invoking synergy.    
     
I halted the sensationalizing gestures,    
eyes mirroring the same wants    
and needs, as we stare    
into the motionless emotions.    
     
I took off her turquoise onyx tang top,    
a hazel grey bra came into fruition.    
My left hand took off her right bra strap,    
my right hand took off her left bra strap,    
the bra swayed left and right,      
as it descends to the ground.    
     
She began to survey her fingers    
onto my my scarlet and black flannel    
in a meticulous manner;    
unhinging each button,    
severing the cage of purity.    
     
I had pulled her into my chest,    
decimating her past,    
as my arms cocooned      
her misery;    
recreating and breaking boundaries,    
as our complexion formed unification.    
     
     
Our bodies we're putting on    
a play, and our shadows were    
the guests for tonight's festivities.    
     
Dismounting her body from mine.    
I had laid her onto her stomach;    
my eyes glimmered her glistening    
ass.    
     
I anchored my lips onto her back,    
rhythmically massaging the upper part of    
it; then descending down to her calves,    
     
I turned her over,    
back was pressing against our mahogany sheets.    
     
Gripping her left calve with my right hand,    
using my ruby lips to massage them,    
with a few kisses fluttering onto them.    
     
My tongue climbed onto her pelvis,    
playful lips retracting,    
teasing her into the inevitable.    
     
Slithering my tongue from her pelvis,    
to her stomach,      
kissing each pit stop    
as it passed on by.    
     
My mouth was nearing her breast,    
the shadows were at the edge of their    
existence.    
     
My tongue was swirling around her left areola,    
teeth began to nibble, lips pulling it back.    
     
Right hand,      
massaging her,    
unclicking every lock,    
gripping her lust.    
     
We tapped lips,    
then I burrowed my lips and tongue into her.    
     
She began to drip onto my plush plump lips,    
decorating them effortlessly;    
swallowing her nectar.    
     
She grabbed the sheets,
I replaced them    
with my palms,    
she started to moan,    
I snatched her climax into    
my selfish mouth.
All writing remains the property of the author. Don't use it for any purpose without their permission.
likes

6

reading list entries

2
Commenting Preference:
The author encourages honest critique.