Content Warning : Do you want to continue?
This poem contains content which some readers may find disturbing.
It is unsuitable for children or anyone who is easily offended.
YES
I am over 18 years old, I have been warned and I still want to read this poem.
NO
I don't want to read this type of content, take me back to the previous page.
deepundergroundpoetry.com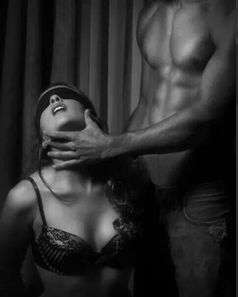 Sweet Submissive (A Duet With WithinTheHeart)
breathlessly awaiting
your touch †
anticipation running †
through my veins †
your scent †
makes me wet †
desire slowly †
dripping †
I hear you †
I inhale you †
my body †
aching for †
your demands †
your wants †
your needs †
I am here †
open †
for only †
you †
to please

your sight
deprived †
hands tied † †
firmly behind back
completely bare †
for your master/lover
feeling safe
within my needs †
open palm taking
swiftly against your backside
pushing limits
without permission †
gripping †
pulling
on lovely locks
heavenly pain
for your pleasure

my body †
betrays my mind †
as moans †
of pleasure †
escape my lips †
hard thrusts †
go deep †
hot, wet †
tightness †
envelopes †
perfectly †
wanting more †
needing more
there can never †
be enough †
of your love

fingers dig †
into my back
the pleads for more
awakens my beast
throwing
forcing
gripping your neck
the fear
arouses †
thrusting in rhythm
kissing upon lips
leaving marks
permanent †
burning into your soul
demanding †
let go

the sting upon †
my skin †
the fingerprints †
around my neck †
breathless †
as I taste your
sweat upon my lips †
showing your love †
my master's love †
which makes †
me whole

releasing you
carrying you
your heart †
beats against mine
pushing your back
against the wall
feel my rapid breaths
upon your neck
close those eyes
let the feeling sink in
then let it all go
as I release my seed inside

my sweet submissive
you are protected
in my aggression

feeling you fill me
my release
with permission
is complete
my body,
heart and mind
belongs to you

for it is only
your love, master
that I crave
that I want
that I need
forevermore

All writing remains the property of the author. Don't use it for any purpose without their permission.
likes

9

reading list entries

2
Commenting Preference:
The author is looking for friendly feedback.