deepundergroundpoetry.com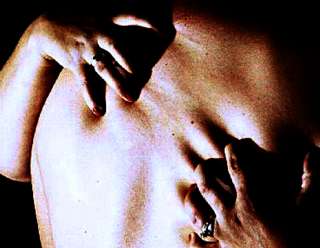 love's madness
   
As    
His Sun rose    
He gave her a momentary glance    
And it dawned on him    
The meaning of this love's madness    
...yes that was how he coined it    
There was no other way he could brand this feeling    
That twisted and turned insidiously inside of him    
As Him and Her would excavate    
Those 'other selves'    
For even in their dreamscapes    
She would be right beside him    
As in all things    
   
And their bonding would form    
An outer shell    
Smug and calloused to the rest of the world    
For they were just only unto themselves    
..considered what they have a must    
As they shamelessly delved into a love    
Reeking with narcissism    
Carrying with it a deep seeded undercurrent    
Constantly lurking    
Beneath poor facsimiles of cultured behavior    
Swelling in anticipation    
Of its next torrential release...    
     
And in the thick of the night    
Its tide would rise    
As the moon grew closer    
And it would threaten to overwhelm    
Yet he would readily stand at the helm    
Of love's madness    
And she with abandon would write    
Of how he passionately recites his Soul    
Telling of his deepest emotions    
Dictating between her thighs    
His voice resonating within her bones    
And she would scribe this insatiable vibe    
In vivid remembrance    
With the fused aroma of their sweaty coitus    
Loitering beneath her nose    
   
He spoke    
And she wrote religiously of their union    
As they would perform nocturnal rituals    
With their love's madness flowing    
As freely as the bodily secretions they swam in...    
The stroke of his penis    
Inspiring the  strokes of her pen    
Her written word illuminated    
By the guiding light of their lunar priestess    
Chronicling their wantonness        
As she him received unreservedly    
Time and again    
Between spread legs    
Savoring every reenactment of his rhapsodies    
Taking his seeker deeper and ever deeper    
Into her undiscovered country    
   
And together    
They would selfishly indulge their    
Own big bang theory    
Amongst the milking of his silken threads    
Into tapestry of she      
As his ebb and her flow    
Pulsed to the rhythm Siamese heartbeats    
Contorting spines    
Bending wills to the shape of this madness    
And tears would fall unabashedly from her eyes    
In honor of promises reconciled    
From the depths of her chasm    
Anointing his entire length in her shimmering essence    
With the braille of he    
Etched into her genetic memory    
As she clawed at his back in a language    
Of their own design    
Marking him as forever hers.....    
 
All writing remains the property of the author. Don't use it for any purpose without their permission.
likes

13

reading list entries

3
Commenting Preference:
The author encourages honest critique.