deepundergroundpoetry.com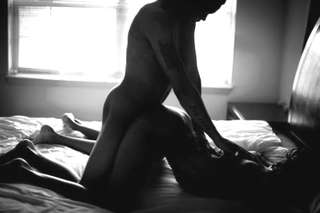 Silent Reverence

There are mysterious
subtle moments
in which we say nothing
as everything
that needs to be said
can be measured
in the way you make
my bare cunt glisten
and the way we touch
one another
as we fuck
the hurt away
until we're basking
in the afterglow
of one another's
radiance
and you finger
paint me
all over you
in various hues
whilst I pour
my heart
out to you
in silent reverence.

Those are the moments
that convince me
you'll never leave
as you worship me wholly
as you take me tenderly
yet so brutally
that a dull ache lingers
in the depths
of my cunt
all day
as you savor the way
in which I surrender
to you
all over again
as dusk soon arrives
and we come
together as one
during the ambiance
contained within luminous
shades of dappled light
as they flicker in the night.

There are tender
subtle moments
in which you kiss me
so deep and hard
if feels as though
you're going to fall
right inside
the cavity of my chest
to nestle yourself
within my beating heart
until our hearts
become twined
as our mouths
inscribe ancient love
notes upon one another
invoking the searing heat
that flows from the depths
of my moistened lips
whilst you pollinate me.

These, are purifying moments in which you tangle yourself upon my limbs, and extract my breath as if it were your own, and when you shift to feasting upon my nipples, until your draw a trickle of sustenance from me, you count the syllables in which I worship you as you find nourishment in my body while you take what you need, whilst planting your seed in the depths of my aching whole.

All writing remains the property of the author. Don't use it for any purpose without their permission.
likes

7

reading list entries

2
Commenting Preference:
The author encourages honest critique.