Content Warning : Do you want to continue?
This poem contains content which some readers may find disturbing.
It is unsuitable for children or anyone who is easily offended.
YES
I am over 18 years old, I have been warned and I still want to read this poem.
NO
I don't want to read this type of content, take me back to the previous page.
deepundergroundpoetry.com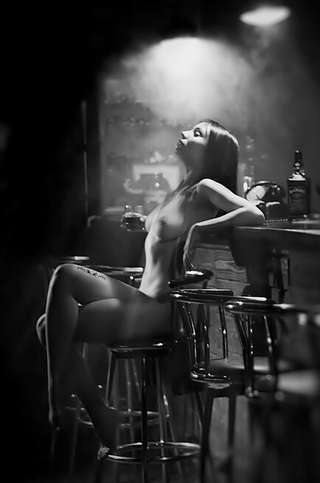 A Chill In The Air (upon a hot summer's day)
 
   
A chill in the air  
on a hot summer day  
a play upon life's contradictions  
in a completely oxymoronic way......  
 
…...she smells of    
cleanly pressed linen  
her presence disturbs    
the stillness  
of the moment  
   
I can't help but cast a stare-  
I gaze upon her caramel skin  
and her soft, raven black hair
( wanna' brush it, stroke it....I wanna' comb it  )
   
" Hi, can I take your order baby?"  
   
My, my, my  
a slight tinge    
of something else  
is there.....  
   
….as she smiles  
and our eyes meet  
that scent of her arousal  
turning me on  
breaking into a sweat  
   
quietly,  
silently,  
through the fire.....  
......a beautiful bitch in heat  
   
" so many wonderful treats  
a menu filled with so many good things to eat  
Give me just a moment dear,  
by the way, is there a bathroom somewhere near?"  
   
the length of her gentle finger    
points the way to the gentleman's door  
I make my way inside    
sit down upon the throne  
my jeans fall down upon the floor  
   
I close my eyes  
dreaming of this    
perfect sensual breeze  
that had just blown my way  
and in the background,    
the beautiful chanteuse sings  
a haunting melody...    
…." you don't know my name"  
   
slowly the door creaks open.....  
   
like a knock upon heaven's gate  
the fresh linen scent  
of the perfectly pressed  
uniform dress that her lithe body  
tries hard to negotiate  
   
she walks towards me  
a moist smile, lips wet.... I adore  
transcending space and time  
with that special pheromone  
that she wore  
   
(…..like she was born with it!)  
   
She placed her foot upon my thigh  
skirt raised just about high enough  
for my eyes to capture    
the sight of her "Vanilla Sky"  
   
"Would you care to sample today's  
desert special, Pecan Amaretto pie?"  
   
…..and a peek of her sweet  
caramelized filling dripped  
from the rounded corners of  
her panties  
sticky, wet droplets    
from betwixt her thighs  
   
I sigh....  
   
….as my body trembled  
and my nature began to rise  
her soft hands  
guide my head  
deep inside    
the apex of her desire  
   
"Smell me...." she whispered  
and tears began to well up    
in the corners of my dreamin' eyes  
   
"Provar o meu amor agora....."  
   
My lips suckle every tender morsel  
lilting upon the sound of her lust-filled high....  
   
   
".....a chill in the air  
on a hot summer day  
a play upon life's contradictions  
in a completely oxymoronic way"  
   
   
   
   

All writing remains the property of the author. Don't use it for any purpose without their permission.
likes

3

reading list entries

1
Commenting Preference:
The author encourages honest critique.