Content Warning : Do you want to continue?
This poem contains content which some readers may find disturbing.
It is unsuitable for children or anyone who is easily offended.
YES
I am over 18 years old, I have been warned and I still want to read this poem.
NO
I don't want to read this type of content, take me back to the previous page.
deepundergroundpoetry.com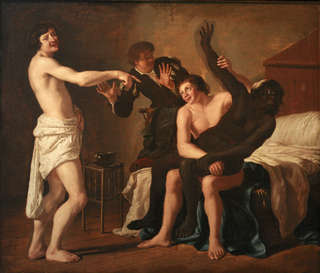 "GINGER'S OBSESSION WITH RAPE" PART ONE
My name is Ginger I grew up as a trouble child that often fantasize about rape . I'm sixteen by the way. I wanted to know more about rape so i met a so call rapist on a ChatRoom . We talked for about two weeks and i finally asked if we could meet. He said "yes" . Excited i was to meet. I chose a private location how stupid, but i wanted to hear his juicy details without the interruption of others. We met under a boardwalk near a beach where he lives , it took me two hours but I made it there. I looked around and he was no where to be found , then i heard a whistling sound and turned around and saw this man wearing a dark black coat and a black baseball cap . I went over and he asked " are you Sexybaby24 ?" i said "yes". I then followed him under the boardwalk not knowing what would happen. He stopped and asked " why do you like rape so much"? i said  " it turns me on with the control part being submissive and i want to know what is it like to rape a woman?"  He replied "Well it was planned, I use to see this Girl short goth looking always by herself going to work and coming home so i followed her. There was something about her that attracted me , I wanted to be with her, but I knew a girl like her wouldn't want a guy like me. I stalked her for a month until I decided I would follow her in her apartment and rape her . At first I wasn't sure but I was already there and my dick was so hard for her. I walked up behind her and forced my way inside her apartment. She fought me with all her might, but I overpowered her and forced he in the room.  I then stripped her  out her dress and ripped her panties off. She kept begging please don't . She plead and pleaded and cried but I kept going. I first fingered her and she was wet which was strange because her pussy wants me but she don't. I tasted her sweet pussy with my tongue and she asked why I'm doing this, I said i can't help myself. I held her wrist with my hands and forced my cock inside her, she started to yell louder as I  kept going deeper.  I was kissing her neck while talking to her telling her this is my pussy now and she should call me her master and obey my orders. While I fucked her she was moaning and calling me master . She refused to kiss me and i choked her and made her taste my spit . I didn't expected to feel so good raping her. I started to fuck her harder and choked her to a point where she almost stop breathing,  I was slapping her in the face and saying to her why you are keeping this pussy to yourself.  I  got so carried away that I came in her. I  told her no one would believed her and carried her to the bathroom to take a shower.  I bathed her left".  He said. I was so so intrigue of all the detail and he later told me he had raped the same woman in a row that he was starting to think that she likes it. He then started to approach me slowly......      
All writing remains the property of the author. Don't use it for any purpose without their permission.
likes

2

reading list entries

1
Commenting Preference:
The author encourages honest critique.