deepundergroundpoetry.com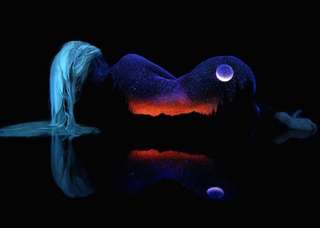 infra-red

you are a beautiful soul
smothered in darkness
a delicacy delicately
sauteed in esoteric musings
magnifying my 3rd eye's
voyeuristic tendencies
 
i seek you out
licking your pheromones
out of thickened air
following your heat signature
in zombie like fashion
with crimson irises
molesting your thoughts
...
you are the ebony garden
where my imagination grows
to potential thick and full
my vine harvested once again  
ripe with God's nectar
rummaging through your foliage
with my heart heaving  
in beastly hunger
 
ravenous
 
feed me in the night  
my benign enchantress
with incoherent exhales
and broken wails
as i suck upon your oxygen
like your loving incubus
inoculating
indoctrinating
through blind ecstasy
tethered by ropes
of burning desires..
 
take me incre-mentally
and feel my longing for you
as i take the stand
inside your holy walls of judgement
to offer yet another testimony
imperfect...jagged...raw
spilling pieces of
an endless dream
inside the wondrous realm
that is you...  

All writing remains the property of the author. Don't use it for any purpose without their permission.
likes

19

reading list entries

2
Commenting Preference:
The author encourages honest critique.