deepundergroundpoetry.com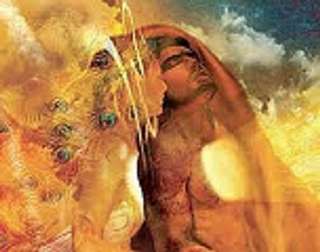 Serenity's Spell

I could only take her...in metered doses
Her liquefied hypnosis must be served precisely....
To the milligram...
A fraction more..
And I am no more...
My mental traction...lost to me..
Overwhelmed by the soothing tsunami that is she..
Her gentle undertows...
Her subtle..undertones
Whisking me away....
Away to a hidden realm....To Her Queendom...
Where the beast that waylays beneath I cannot reside
Where my narcissism dissipates in the melody
Of her sing-song breeze...
Where my jade is vanquished by the shade cast by
The lasting grandeur of her femininity....
Where I am stripped of all this worldly besmirchment
Watching as it slowly drip off of me....
Like a blackened symbiote rejected from its host
I am Sankofa manifest...
I have come back to the Original Eye of me
Her lingua now the tapestry of Eye
Weaving me whole once again...
With her golden threads of
Restitution redemption and reconciliation
Eye...am cleansed....
Baptized by she...this humble apprentice of Eternity
†
Eye.....yearn to be graced by her presence
Beyond these scriptures..
If Eye could only....
If Eye could just.....touch the hand that stirs
Heaven's oasis...
Look into the irises that would peer through my Soul
Just once....standing face to face
And let us speak in our own electric silence...
Let our ancestral vibes permeate the air about us...
Let disambiguation tell the epic of us...
For eons we have crossed paths...
She and Eye
Grazing by one another....
In between the most innocuous moments
My mind...in childish vain would grasp at a thousand straws
Trying to recall such moments...
Yet my Spirit remembers her....vividly
Like a translucent portrait laying seductively...
Patiently....on my ocean's bed
Illuminating...resonating...
From the deep within me...
Pulling at me...
Calling me to the surface....
Eye swim valiantly..defiantly...
Against the torrential and unrelenting waves
Of my ego-self
Then suddenly...EYE GASP!
And inhale that long awaited breath...
As Eye drown..
Overwhelmed by the consumption of her divine liquor
My skin laminated by the overflow of her libations
A fraction too much...Eye suppose
And Eye am now gloriously condemned to her Queendom..
Where the soothsayer is omnipresent...
Where Eye am....
Once again....
No more...

All writing remains the property of the author. Don't use it for any purpose without their permission.
likes

19

reading list entries

6
Commenting Preference:
The author encourages honest critique.