Content Warning : Do you want to continue?
This poem contains content which some readers may find disturbing.
It is unsuitable for children or anyone who is easily offended.
YES
I am over 18 years old, I have been warned and I still want to read this poem.
NO
I don't want to read this type of content, take me back to the previous page.
deepundergroundpoetry.com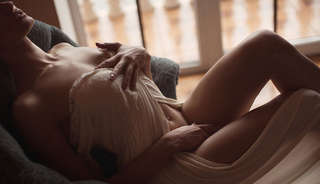 Verbal Fuck
 
The manner you compose those sexy verbs  
has me fantasizing about you  
wondering if my succulent thickness  
seduces your thoughts as good as  
your words intellectually fucks me  
   
Lyrically licks me  
   
I love the way you absorb my lines  
while reading between my thighs  
tasting my wet content.  
Sensual stanzas making me weak  
to the point I'd rather read you at 12am  
instead of sleep  
Dated poetry dripping in 'chocolate mocha'  
strong enough that I can hear your voice  
and attentively, I listen  
until moans from the page turn into  
1am submissions  
   
Your strategized strokes have me confessing…  
how sinfully-good your pen feels against my skin  
you're drenching me with expressions conducive to  
a cybernetic high  
and you're the poetic reason why,  
my enthralled slit…..poetically seeps  
   
   
   
Rain~  
   
   
(....inspiration via comment)
All writing remains the property of the author. Don't use it for any purpose without their permission.
likes

25

reading list entries

10
Commenting Preference:
The author has chosen not to accept new comments at this time.