deepundergroundpoetry.com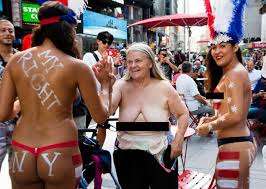 Painted City

They say Summer has come to an end but some things keep on lingering with an acute reminder that time is a linear notion.

Naked, painted women were everywhere in Times Square, displaying their bodies in the name of "Art" and "Female Empowerment", shedding clothes and with it, inhibitions.

The crowds were entertained as well as bemused with the idea of freedom of speech.  More importantly, the abuse of it by some who clearly were not there for a good cause or raising awareness for well intended non-profit organizations.  From prostitutes joining for solicitation of 'tips' to others dragging their children along and stripping them topless for attention, pestering the crowds for photographs.

Should we start worrying who's rights are more compromised, the women or the minors?

Celebration of women's rights should never be condemned or censored but one should take caution to not hinder on anyone else's rights at the same time.  Taking allowance to respect families, cultures and religions who are subjected to view on daily basis. a predicament right in the center of the city, along numerous other places where crowds are at peak.

Consideration for appropriate places are important.  When we need to get a tan, we drive to the beach and seek areas for nude sunbathing.  If one needs to strip for money, there are strip clubs and not take it on the streets where they are 'protected' by law in the name of freedom of speech by abusing and contorting the definition of law.

Innocence is already short lived as we progress in this digital age and to take proactive role in protecting their minds from impressionable images should be something all women need to do for each other and for future generations to maintain the power and integrity by cherishing their bodies, not as objects or entertainment but as extension of their mind and soul.

This has been a summer of shedding many things, for some it was clothes and for others, memories.
All writing remains the property of the author. Don't use it for any purpose without their permission.
likes

15

reading list entries

2
Commenting Preference:
The author encourages honest critique.