Content Warning : Do you want to continue?
This poem contains content which some readers may find disturbing.
It is unsuitable for children or anyone who is easily offended.
YES
I am over 18 years old, I have been warned and I still want to read this poem.
NO
I don't want to read this type of content, take me back to the previous page.
deepundergroundpoetry.com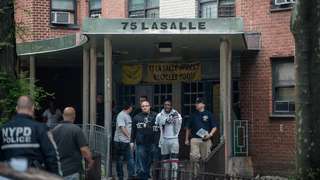 Marsha ... Marsha ... Marsha
 
Marsha ... Marsha ... Marsha    
   
   
Wasn't looking to live large    
Just lovely    
   
You know    
   
like the Brady Bunch    
All blonde and beautiful    
With a dog named Tiger    
   
Except I wanted to fuck Marsha    
and Carol too    
Yeah I know    
Not in the script    
But neither was my life    
   
Prison Sundays    
   
was the only time I didn't have to go to church    
Except my moms still made me wear that    
punk ass suit    
with the    
punk ass tie    
And those    
punk ass shoes    
   
Visiting Daddy    
in Attica    
   
Guards patting me down    
I was ten    
Get used to it    
one of 'em smirked    
   
Like I was stupid enough to carry my screwdriver there    
   
Showed Daddy my report card    
All A's    
Not bad for what I was supposed to be    
   
What was that again?    
   
Oh yeah    
That's right    
Just another nigga in the ghetto    
   
Which meant I didn't surf in Hawaii    
with Greg and Peter    
Me and my friends    
we surfed the tops of elevator cars    
21 glorious stories up and down    
   
Until that day Ricky slipped    
I was there but I wasn't    
   
When the cops ask    
   
You never are      
   
I try to be a kid    
Go to the corner store    
Buy a pack of Now & Laters    
and steal a Charleston Chew    
   
I'll live Now    
I supposed    
die sooner than Later I guessed    
Cause right in the mix they sell candy shaped like cigarettes    
Packaged in fake real cigarette boxes    
   
Now that's ghetto candy    
Cause I've never seen sweet Cindy sucking on that shit    
   
Blue Magic    
China White    
Caballo    
They sell that in the candy store too    
   
Funny    
   
No commercials on TV  for where to buy your dope    
or play your numbers    
but everybody knows where    
   
Is this my life God?    
to know the unknown    
And father a child before my time    
with the first girl that says    
   
Si Papi    
   
because she's too scared and stupid    
to know what she wants 
   
I watch the pigeons    
circling and hovering above Grant's Projects    
   
They have wings    
But won't fuckin' leave    
So what chance do I have?    
   
I watch the Bradys    
They're going to the Grand Canyon    
   
So I pack my bags and pretend      
   
   
Photo credit: (New York Times, June 2014) Grant's Housing Project - Harlem, NY.  The very building I grew up in.  Police raided the building to arrest and evict known gang members.    
   
 
All writing remains the property of the author. Don't use it for any purpose without their permission.
likes

13

reading list entries

6
Commenting Preference:
The author encourages honest critique.