Content Warning : Do you want to continue?
This poem contains content which some readers may find disturbing.
It is unsuitable for children or anyone who is easily offended.
YES
I am over 18 years old, I have been warned and I still want to read this poem.
NO
I don't want to read this type of content, take me back to the previous page.
deepundergroundpoetry.com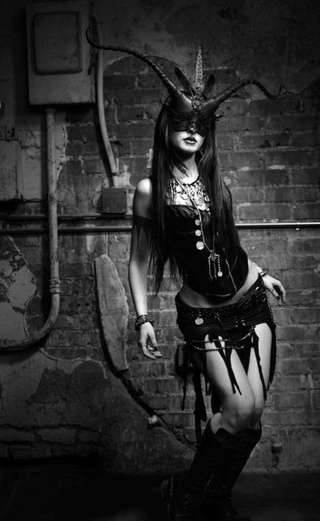 A Ravenous Dancer With an Effort
As he entered
Through the nearly open gate
He stumbled upon a shadow figure
With colored candles lit
To catch an easy glimpse—
Incenses of white sage and opium
On each side—
There the figure reveals deeply,
A female in Goth form,
Black curly hair
Eye shadows
Dark lipstick
Black and blood-red bra—
A skinny weight body
Decorated with jewelry
Of sterling silver
Of sparkling flowers
Pentagrams
Inverted crosses—
Completed with fishnets
On arms and legs
And tall lace-up combat boots

She raises her fishnet arms in the air
With skull silvery rings shining
As she begins to shake
Her arms and legs
As percussion and wind music play
Beyond the background,
A cunning attempt to lure
The wanderer further inside

She makes a gesture to him,
A gesture to come closer,
Mesmerized, he follows through
As she herself dances
Towards him
Clutching him by the arm,
Rubbing his chest
As she continues to move her feet
In every rhythm

She winks and presents a sexy smile
Until the wanderer realizes
He is hard between the legs
Feeling incredibly horny—
He brings his hands
Desperately to her breasts
And she reacts with satisfaction
Moaning and moaning
Till she whispers,
"Put me on that bed,
Get on top of me,
Remove these panties of mine."
Hungry for intimacy
She licks her lips
Influencing him to obey her wishes

As she is stripped
He crawls on top
Stroking down her belly
With her sigh of "Oh yeah"—
She makes her way
To the top of him
Kissing and licking
Along his chest
Till he now sticks his cock inside—
Harder and rougher they fucked
Until he felt himself squirting
While she got wet
And came with all might—
With convenience
She traps him down
Like a prisoner
And bites him
Out of want and lust—
Eternally shall he be kept
In her lair of a forever young—
Will they then ever soon enough
Ever bathe together and evermore?
All writing remains the property of the author. Don't use it for any purpose without their permission.
likes

0

reading list entries

0
Commenting Preference:
The author encourages honest critique.