Content Warning : Do you want to continue?
This poem contains content which some readers may find disturbing.
It is unsuitable for children or anyone who is easily offended.
YES
I am over 18 years old, I have been warned and I still want to read this poem.
NO
I don't want to read this type of content, take me back to the previous page.
deepundergroundpoetry.com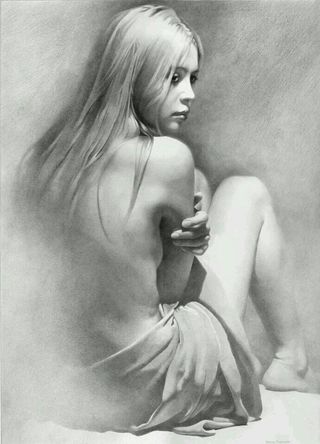 prisoner of dark lust      (w ~ JohnFeddeler)
he took her

he had seen her at the Club
where he sat in the furthest shadows
he was too shy to speak to other members
he only came to watch her perform

she came to the stage in a robe
that was removed by a servant girl
and she was secured to a cross-beam
her naked body excited him
but not as much as the abuse she endured
she moaned, then screamed, as the whip
bit her flesh. but her pleasure showed
in the dripping wetness between her thighs

one night he followed her as she left the club alone
his hand firmly over her mouth subdued her
he took her to his cabin, to keep her for his own
he did not know the name of his dark,
despicable fetish, so he called it love…

*****

she struggles, attempting to see him
he will not come out from the shadows.
in this room she is kept in chains,
naked, shaking not with cold
so much fear in her body
not knowing, nothing

the chains rattle as she shakes them
she yelling, pleading with him
she hears the door squeak open
he slowly walks in, whip in hand
cracks it, she jumps, eyes clenched tight
pleading more whimpering
he doesn't say a word

she was whipped, & starved at times
her room was kept cold
so that she shivered like a newborn animal
all this was justified
by his warped sense of love

walks up behind her, she shaking
grabbing her hair yanking her head back
he licks her face, cold cheek
grabbing her tit, twisting her nipple
making her rise to her tip toes
he reaches around her grabbing
her moistened pussy

stepping back he takes his whip
he cracks it one, two, three...
she screams with the third hit
his wicked grin, beating her
knowing she is his to do with    

she no longer knows freedom
he steps around in front of her
her eyes travel from the floor to his  
he slaps her hard making the chains rattle
her gaze never leaves him

he unzips his jeans, taking out his cock
He moves in closer, takes her waist
moves his hands down her thighs
picking her up he forces himself into
She moans through her lips he slaps her

moves her up and down on his hard cock
slapping her face, grabbing her throat
squeezing tightly, gasping for air
fucking her, releases
letting his juices drip down her legs

once finished, leaving her
shivering, hungry
feelings flow, tears run, she feels...
she feels his love

who can truly fathom
the paradoxes of love
sometimes it even falls
upon the undeserving
All writing remains the property of the author. Don't use it for any purpose without their permission.
likes

4

reading list entries

1
Commenting Preference:
The author is looking for friendly feedback.