deepundergroundpoetry.com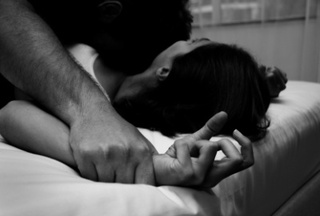 Diary of Amy Baits"
"Diary of Amy Baits"



Endless battle with the thought that I'm forgetting myself...
At times I stare in the mirror, not please nor willing to face my reflection...
The fact I am a twisted knot with bows beneath,
I constantly yearn for my desires to be meet...
The days I've spent fantasizing about being rape and secretly enjoying it on the inside...
I think something is wrong with me,
For sex is only appealing by force in the dominance which I seek…
I fear that I might find it delightful that I was rape repeatedly...not that I'm complaining but the thought of I dare say a man name Garrett was to see me walking in my apartment building looking shy and fearful and somehow sweet and innocent . He would then be effortlessly turned on and wanted nothing more than to strip and tie me down slapping me to be quiet , then I would breathe heavily and ask "why are you doing this to me" ill beg "please don't" yet want more.
Garrett would do as he pleases indulging as much as possible in my plea and moans and scream I would make when he puts his fingers in me….



To be continued
All writing remains the property of the author. Don't use it for any purpose without their permission.
likes

1

reading list entries

0
Commenting Preference:
The author encourages honest critique.