deepundergroundpoetry.com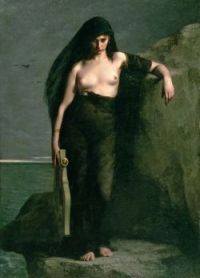 Sappho Smiles
- Sappho Smiles -

When poetry brings out my wiles,
As thou canst imagine: my face smiles.
I look up at that portrait of thee, standing by the sea…
Holding thy fair lyre in hand, so solemnly regarding me.
Wouldst I, have been like a daughter to thee, of old?
Or wouldst thou have made me thy lover, thusly bold!
I wonder, Sappho, poetess whom my soul so adores,
Why people still judge thee, by foolish human mores!
Were thou not a goddess of poetry, after thy fashion?
A muse to which the soul might turn with full passion!
I like to imagine thy lovely face smiles,
When poetry brings out thy wiles.
All writing remains the property of the author. Don't use it for any purpose without their permission.
likes

7

reading list entries

1

Commenting Preference:
The author encourages honest critique.