Content Warning : Do you want to continue?
This poem contains content which some readers may find disturbing.
It is unsuitable for children or anyone who is easily offended.
YES
I am over 18 years old, I have been warned and I still want to read this poem.
NO
I don't want to read this type of content, take me back to the previous page.
deepundergroundpoetry.com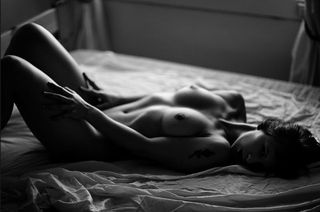 edict of fantasy

perhaps the fantasy is more valuable than reality:
if I touch you with my real hand, in your secret &
sensitive place, I may give you an orgasm. but if I
deliver to you my fantasies, & they are lucid &
intense, you will bring to yourself your own orgasms;
many, & many.

I have been with whores, & with women who were
whores for promissories other than banknotes. I
have been with women who detested that shameful
epithet, but they were, nonetheless, whores.

and I tell you this because I desire you in the way
that a man desires a woman; it is the same intention
for which a man purchases a prostitute. I admit this
to you outright, so that you will not be deceived.
whatever affection is present, is that which is attached
to our sexual promiscuity.

the great distance of cyberspace is the connection, &
the barrier, that we must traverse. my fantasy of you is
my solitary fulfillment, it is my Bastille. I acknowledge
my guilt, & I accept my incarceration for this reason:

having the fantasy of you is better
than not having you at all…



All writing remains the property of the author. Don't use it for any purpose without their permission.
likes

19

reading list entries

5
Commenting Preference:
The author encourages honest critique.