Content Warning : Do you want to continue?
This poem contains content which some readers may find disturbing.
It is unsuitable for children or anyone who is easily offended.
YES
I am over 18 years old, I have been warned and I still want to read this poem.
NO
I don't want to read this type of content, take me back to the previous page.
deepundergroundpoetry.com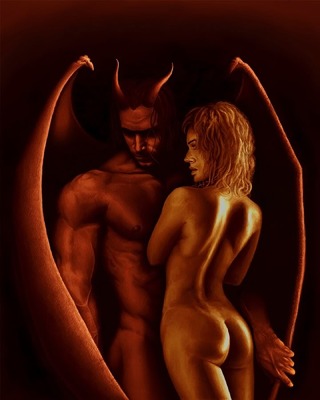 Won't You Fuck Me?
Won't you fuck me hard?
Won't you fuck me
Till you moan hysterically,
Pleasing the dark lust inside.
Feel it as I budge it in,
Hear it as you feel so wet,
Soaked on your sexy cunt
That it rubs serenely against,
Won't you fuck me hard?

Don't you taste the sense,
The sense that you are utterly horny?
You say, "I want you so, so bad,
Fuck me, my sexy demon!
Restrain me! Strip me!"
 
Ripped of your gothic dress
Your nips I jiggle
With my long tongue
From my black lips,
Wiggling your cunt
As I put it in, long and hard,
Won't you fuck me?
 
Going down on you
My eyes glowing malefic green
Smiling my atrocious fangs
As you feel a supreme pleasure.
Going deeper, deeper
You squeal and pant
As you unleash an orgasm—
 
But with a bliss so tremendous
You cum and cum incessantly
Till your cunt tingles
And you shake with fondness
You wish my muscle chest—
Six-pack and V-shape belly—
To keep within connection
With my fingers of a sexual beast
Flowing through your soft, dark hair
I ask once more,
Won't you fuck me?
 
Looking through my bright green eyes
With pupils of a sex creature
You experience the amazement
That a sexy fiend could turn you on
And make you wet, you think:
You'd fuck me hard.
All writing remains the property of the author. Don't use it for any purpose without their permission.
likes

2

reading list entries

1

Commenting Preference:
The author encourages honest critique.