Content Warning : Do you want to continue?
This poem contains content which some readers may find disturbing.
It is unsuitable for children or anyone who is easily offended.
YES
I am over 18 years old, I have been warned and I still want to read this poem.
NO
I don't want to read this type of content, take me back to the previous page.
deepundergroundpoetry.com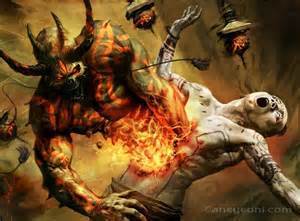 "The Under9ods of the Earth, (Quickening, Becoming Automatic)."
We are the Ever-present,
"Cthonic Harbingers," of...

Death

We Dwell among You now and
Seep and Gnaw, into Your
Souls; leaving You Vacuous,
Dejected and Bereft:

Our, "Ends," We Seek; are
to Render You Unclean, to...

Exploit

From the Beginnings of all
Ages, We've Existed, in
hidden Crags and in Willing
Minds, waiting for just the
right Setting to Writhe
our Wyrms into, and, therein...

Abide

Once, Locked away in Chains
behind, "The Layers," We are
being Released to Possess the
Denizens of this Realm:

No Longer Separate from, but,
in full Control of their
Desires and Whims

No more just a Minor Outburst
or Moment or Episode;

"No; We now Inhabit Wholly and
are Automatic; Enjoying these
Fleshly Bodies: in what Manner

In every Fucking way that is
Deemed, "Ungodly,"


"I Live in the Weak
and the Wounded." - Quote from
Mary Hobbes;
from, "Session 9
All writing remains the property of the author. Don't use it for any purpose without their permission.
likes

3

reading list entries

1
Commenting Preference:
The author encourages honest critique.