Content Warning : Do you want to continue?
This poem contains content which some readers may find disturbing.
It is unsuitable for children or anyone who is easily offended.
YES
I am over 18 years old, I have been warned and I still want to read this poem.
NO
I don't want to read this type of content, take me back to the previous page.
deepundergroundpoetry.com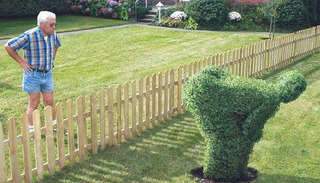 Bad Neighbor
"I'm planting black crosses in your garden
Shooting your dog to stop his ass from barking,
"I'm that evil neighbor you don't want to live next to
Now peace in the neighborhood is motherfuckin through,

"Parties in my front yard to the back can be heard down the block
Hardcore drinking, smoking and cursing constantly non-stop,
"Neighbors peeping out their window, afraid to speak
Because they know I'm knocking motherfuckers to sleep,

"The pastor next door is praying for patience and order
But he would pray for lightning if he knew I was fucking his daughter,
"Or his wife-for that matter
I guess he haven't noticed how that belly is getting fatter,

"Howls and screams constantly flow out my window
Now lights and sirens is going off from the pussy ass police car show,
"I thought this was a free country, what you harassing me for
Need to go down the street and arrest that aids infested whore,

"The other day a school girl asked if I'll buy some candy
Kicked her in the teeth, now her parents are mad at me,
"Motherfuckers threatening an ass whoopin is mine
But they shut that shit up fast when I pulled my nine,

"Jail. Been there, done that-ain't afraid for another turn
Because hell is afterwards and I'm not afraid of the burn,
"Just like that junkie injecting himself with a dirty needle
From the moment of my birth I was labeled lawful evil".

All writing remains the property of the author. Don't use it for any purpose without their permission.
likes

8

reading list entries

2
Commenting Preference:
The author encourages honest critique.