deepundergroundpoetry.com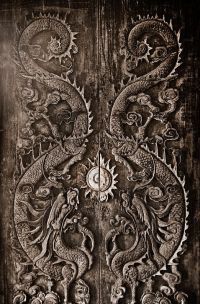 The Dragon's Door
- The Dragon's Door -

"Vltra Draconis et Portal,
Nos ire ad tenebrae!
Vltra Draconis et Portal,
Erit nostra paradisus."

In the eternal shadows that lie beyond the night,
My deathless Mother calls to me my true name.
Her arms doth stretch forth, just beyond thy sight,
To draw us into the heat: of Her cleansing flame.
She is the Divine Feminine, half of a greater force!
The Left Side of God, the Goddess great on high.
Who canst withstand her Light to chart its' course?
She is the Power Divine that no mortal may deny.
Just as I hath many children to whom I give glory,
I hath many brothers and sisters in our dark faith!
To whom amongst them shall I dedicate this story?
To all it must be, for only this couldst be the case.
Oh my sweetest sisters, kindred spirits most dear,
Canst thou not see the Light and also keenly hear…
The Goddess's soft whisper in the depths of dark!
Let perish, thy fear, as we together venture near...
Into the grand Abyss beyond all, doth we embark.
Was Heaven ever so glorious as our Mother's halls?
Wherein, both pain and pleasure are oft the same!
Why not hasten to where Her sweet darkness falls,
And be done with all trappings of Earthly shame?
Because there is glory in live equal to death's own!
Glory to be won, and things to be savored wholly,
The likes of which is so very seldom to be known.
Are we not the closest kindred souls, thou and I?
Born of both deepest darkness and noblest light!
Our glories art such as to make even God to cry,
In soulful premonition of the great coming blight!
Do not the highest angels bow before our blood,
And doth not likewise the devils pay us our due?
Art not both sides so fearful of that raging flood!
The final war, that wouldst otherwise thus ensue?
The balance is kept, but it is ever kept narrowly,
A thin and fragile peace exists in creation, at best.
If it had not thus been for our Divine aristocracy,
Who wouldst ever have been so sacredly blest?
I say where would God be without His shadow!
Where art the Heights above without the deep Pit?
Heaven's fields art naught without Hell's meadows,
To be kissed by the one, is by the other to be bit.
The serpent's scales art always green and bright,
Yet, its' fangs art as sharp as the keenest swords!
However thou dost yet live, either foully or aright,
Art thou truly living at all, without my very words?
Wouldst thou thus join me, my dear kindred soul!
Wouldst thou share with me, the throne of glory?
The Dark Goddess sends forth the spirits to extol,
Our Mother sings forth, our legend and our story.
All praises in the highest to Her Name must be!
Exalted above all the trees of the secret Paradise,
Beyond the boundaries of this universe, art we…
Exalted above the teachings of the learned wise,
All praises, and all blessings, shall we soon see!
Oh, heart of the voids beyond the Great Void…
Wherein the Lost art lost and thus forever more,
Thy soulless gaze, I cannot long hope to avoid!
And so I dare to knock upon the Dragon's door.
Who will dare to so cross that portal at my side!
Will it be thee, beloved sisters kindred of mine?
In my writings, every dark secret I didst confide,
Even unto every deep and darkly hidden sign…
So let us come together, without fright or dread,
And, ascending beyond all, we will surely climb:
Beyond death and living and breath of the dead,
We shall embrace in the shadows for all of time.
All writing remains the property of the author. Don't use it for any purpose without their permission.
likes

3

reading list entries

1
Commenting Preference:
The author encourages honest critique.