deepundergroundpoetry.com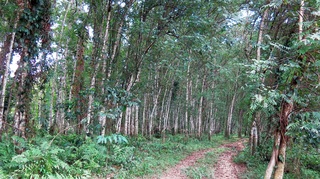 Foraging
I dream again about the wild
where branches thick with leaves
lend shade to the ground below
and gentle zephyr casually blow

I see the fresh young leaves
on plants I had plucked before
putting them in reed baskets
and heading for home to cook lunch

the babbling brooks
where we caught small fishes
and freshwater shrimps
to fry together on a hot wok

I hear again the calls of squirrels
chattering noisily over ripe fruits
monkeys joining in to call
soon leaving the trees sadly bare

this morning I woke up
in a sterile hotel room
cold and impersonal
and recalled my childhood

like a communion wafer turn bitter
or a balancing act on a tight rope
past memories lost in racing with rats
streak across the room laughing

sometimes.
All writing remains the property of the author. Don't use it for any purpose without their permission.
likes

4

reading list entries

0
Commenting Preference:
The author is looking for friendly feedback.