Content Warning : Do you want to continue?
This poem contains content which some readers may find disturbing.
It is unsuitable for children or anyone who is easily offended.
YES
I am over 18 years old, I have been warned and I still want to read this poem.
NO
I don't want to read this type of content, take me back to the previous page.
deepundergroundpoetry.com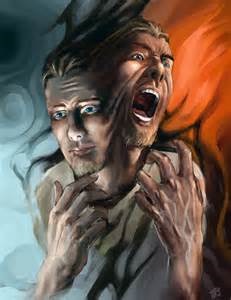 "Dark  Arousal"

They are trying  to bring out our darkside..
By revealing and exposing our eyes to  Evil pleasures..
To be aroused by the idea that we have a inner darkness living within us..
That this side of us lurks beneath the surface ..
Waiting for a chance or the will to give in to this..
To allow this shade of shadow to rape and corrupt our thoughts…
Eyes that were once white have now become black..
Sharp nails to scrap ones skin daily..
Unintentional blood scarifice..
The urge to fuck ones self & be fucked , as sex becomes a fix ..
To fear the worst  of a body being  bruised …
This  as become thirst..
We  were told not to live in the shadows of ourself..
And that those who do so are the devils advocate ..
It has become clear enough that our mind have already been decieve…
This arousal as become more than a fantasy ..
Living in a world where one person say they shall protect our children..
Yet at night they are the one who continue to kill this nation..


All writing remains the property of the author. Don't use it for any purpose without their permission.
likes

4

reading list entries

3
Commenting Preference:
The author encourages honest critique.