deepundergroundpoetry.com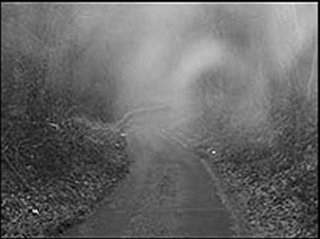 The Wayside Haunting
(A Grace and Soul Collab.)



Chants of hatred chants of woe
none hear, no answers from above
helpless words resigned to cold air
pleas touching nothing in thin space
refrains of melody, life once lived
cold sun, blazing skies, stars falling
breathes cold diaphanous falling rain
not wet no, just cold with lonely strains
refrains of past songs evoke thoughts
sighs of man satiated in his whims


What so cast this lonely ode
frail fraught fragile winds grown cold
dim dodger cull upon the field
reap your loss O listless wanderer
battles borne from black and blue
gut the pigs who so stuck
slumped there torn lost ragged doll
whisper your lingering along desolate road
rider of raindrops wipe your eyes
and lay thy pain for I


you see me, this gossamer image
diaphanous webs woven of hatred
knitted from angry distress
don't I terrify you, mortal
for I can show you images so dark
insanity and madness will course
through your veins, freezing your heart
for love knows no home within
dare you speak, you man
I spit on the name, creation's mockery


Sight of unseen blowing icy breath
your voice rails perfect disharmony
quell thy weighted anger
what images paint such distress
life in a flash or a lovers grasp
tell tale of angers supply
how it was, how it began
life I wish, beg in humble
spared touch for natures honour
let rivers flow so you sail upon


Need I pound the mortar of dark gods
to fill you with understanding
the cause of my ethereal presence
do I suffer to hear again diabolical laughter
of the gods, fate that side most men
mocking me, a sacrifice to their bestial needs
they used me, splashing my blood
like a lamb, nay, a wounded sacrifice
tortured for their lusts on earthen altar
in their pleasure, they stabbed me mercilessly


Acting pestle and playing God pounds plenty nail
save one from my pine
let your pains close forever heal
pry from your grasp the innocence so lost
cross bearer, leeching living lights follow golden roads
what save I this preyed upon hapless wretch
those men like tyrants populace aplenty
met their fate while shaking final rattle
crumbling dust between fingers, pinching out existence
raises naught higher than those called wicked


I remember, loud barks cacophony of sounds
hands, mouths and tentacles of men
rubbing coarse squeezing stabbing pain
molten magenta splashes on white cotton
on ground carpeted with dead brown leaves
these pain tie me here, binding my soul
darkness streaming through my heart
I seek revenge for sons not birthed
For daughters, mere dreams forever more
I want vengeance for mine that is stolen


remember creature comforts wrung from midday sun
cresting lavish waters while you swam
licking beaded drips satisfying sigh
drying fireside while sparkling under star
these things seek remembrance saved for grace
we the living breathe for such moments acquired
simple things you've denied others
wept I for eye my dying kind
throttled by a mists angry hand
stay thy fury for children grown to man


I hear the song of nature ruined
look up to skies raining into my eyes
tears of mine mingle with nature's
tears for  Her child killed by love's
adulterated gestures
wish I to live a breath or more
to savour man's true love
tenderness kind formed of rectitude
unabashed yearnings cruelly denied
truly I be a child of the wind


Refrain only serendipitous chorus of smiling life
take hold of light held just for you
the cup and dove reside above
readily awaiting embracement calls love
simplistic gestures
known whole by our very same wanting soul
truly, best forgotten torturous man
fly by night towards day
deep in desires release
ascend steps above these foul and treacherous winds


woe is me the life that's snuffed
from breathing air cold or warm
to stand alone a wayside haunt
listening for footsteps never heard
a quandary posed... should I wait
for vengeance to be said and done
or mercy picked from thin air
never learned never taught
or should I bid fare thee well
to revenge not served at all


rest knowing this man carries retched tale
to serve to share evils warning
that vengeance takes shape lurking wayside
a grimaced ice mist awaits
to pummel those who dare threaten
lonely weakened hopeful innocent, dreaming their 'morrow
I have witnessed horrors and I beg
spare my life, crawling
kneed deep in muck I trust salvation
be at peace, rest unto heaven


Flash to silent nothingness
never to be seen no more
haunt no more, the sweet refrain


leave the fools with disdain.



All writing remains the property of the author. Don't use it for any purpose without their permission.
likes

12

reading list entries

1
Commenting Preference:
The author encourages honest critique.