Content Warning : Do you want to continue?
This poem contains content which some readers may find disturbing.
It is unsuitable for children or anyone who is easily offended.
YES
I am over 18 years old, I have been warned and I still want to read this poem.
NO
I don't want to read this type of content, take me back to the previous page.
deepundergroundpoetry.com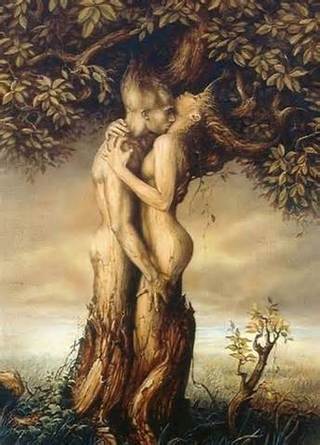 The  Root

fetish....perhaps our bond is too wet to understand (and what we have is much more than they can see...Jeffrey Osborne/LTD)  
 
 
The root swings ,
long and free
needing no darkness or soil
to anchor you to me
 
it's grip runs deep
and to you I keep holding on.....
 
"….holding back the years"
 
loving the way you nurse
my rich, thick vein
the way your lips envelope it
and kiss away my "bluest" pain
 
she sits beneath  
my massive structure
lovingly, with pride
basking in my shade,  
naked upon green grass
not one thing to hide.....
 
….between you and I
 
feeling the root growing
inside the gentle reluctance
of  passionate  kisses
throbbing with life's strong pulse
I moan with pleasure.........
 
….satisfying her own beyond measure

as she grasp my fruit
she squeezes me
so ripe with juice
bursting forth like rain
 
"lord have mercy....the sanctification of her flesh not in vain"

it glistens upon
her cherub face
the kiss of life upon her breast
the warmth of the sun all over her hands
nourishing her body...
 
...I was made to love her
 
This root swings  
long and free
needing no darkness or soil
to anchor you to me
All writing remains the property of the author. Don't use it for any purpose without their permission.
likes

7

reading list entries

1

Commenting Preference:
The author encourages honest critique.