Content Warning : Do you want to continue?
This poem contains content which some readers may find disturbing.
It is unsuitable for children or anyone who is easily offended.
YES
I am over 18 years old, I have been warned and I still want to read this poem.
NO
I don't want to read this type of content, take me back to the previous page.
deepundergroundpoetry.com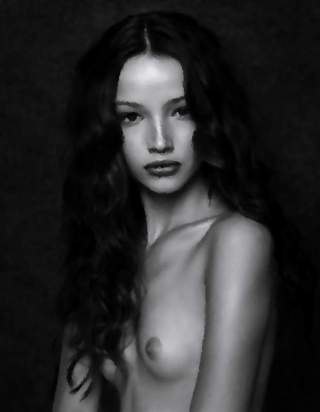 The Breaking of Lolita
     
...you are the essence of my "Lolita dreams"    
     
     
Ages,   
nine spaces in time      
all but a number      
akin to a tale of two great cities.......      
     
…....leaving her mind to ponder      
the reasons,      
discovering      
her lover's wonder      
in this season of her existence      
Pieces of a longing dream that      
fate dare not allow,      
yet she finds his essence, her desire      
here and now      
     
…....a beautiful tabu breaking her youthful will in the eve of her spring      
     
".....his strong hands tearing away the dress      
tearing away the gentle fabric      
of her cotton, white panties      
carrying her away naked      
to a small solitary bed      
     
dissimilar souls juxtaposed against a moment      
the eve of her spring      
the afternoon of his fall      
the beating of hearts      
a scene played over and over in their minds"      
     
…..they know not of this blooming desire      
     
looking at her body with a hunger      
as dusty slits of light pour through      
distressed and battered blinds, suspended in time      
will his fears overcome the splendor of his dream?      
Shall his heart betray his wisdom?      
How could he ever do such a thing?      
     
but the clarity of her crystal brown eyes      
light up the skies ...      
     
...the beauty of her virgin breaking not to be denied      
     
her lithe, youthful frame      
breathless, her tender voice calls  to him      
she closes her eyes and undresses him with her hands      
button by button,      
sleeve by sleeve      
She grants her lover's sobering release      
     
Skin against skin      
she quenches his shyness      
swept up in the kindness      
of his gentility........      
     
…....her hands touch the tenderness of his sex      
careful not to look into his dark eyes      
the golden hue of his hardening male flesh      
growing inside the grips of her tiny hands      
the sound of his voice in breathy, low tones      
as she moves him inside the grandeur of sensual newness      
     
…never before touched yet she knows the way      
     
he breaks her seal      
slowly but steadily      
the wincing of delicious pain      
before overwhelming pleasure      
     
…..as the seasons change      
     
he breaks her body      
over and over      
again and again      
white linen canvas      
elicits a deep scarlet stain.....in a moment so breathtakingly divine      
     
…giving himself cause to ponder      
a meeting of his young lover, in the fall of his familiar      
pieces of a longing dream that      
fate dare not allow      
yet he finds her tenderness,      
here and now......      
     
…breaking her will      
     
or is it she      
that hath broken me...?      
     
     
     
     
...inspired by my one and only love, and the movie "The Lover" by Claude Berri and Jean Jacques-Arnard
All writing remains the property of the author. Don't use it for any purpose without their permission.
likes

10

reading list entries

4
Commenting Preference:
The author encourages honest critique.