Content Warning : Do you want to continue?
This poem contains content which some readers may find disturbing.
It is unsuitable for children or anyone who is easily offended.
YES
I am over 18 years old, I have been warned and I still want to read this poem.
NO
I don't want to read this type of content, take me back to the previous page.
deepundergroundpoetry.com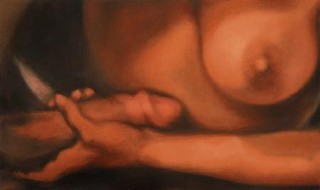 Love Chair
Night shirts and boxers
Cuddles and sensual kisses
A mediteranian breakfast
I finish the dishes

We share a few stolen moments
I carress and play with you hair
Your hand brushes my thigh
I dare you to go there

Ahhh but you take the lead baby
moving up my thigh
stimulated by your slender fingers
My sleeping monster begins to slowly rise

The sensation of your leg
now draped across my thigh
your tanned round bottom
your soft, silky pussy hair captures my watching eye

Hands inside my boxers
You hardly miss a beat
Wrapped hands around my johnson, johnson
Slowly, u beat my meat

You got his one eye open
He's peepin through the placket hole
I feel my conciousness leaving me
I let you take control

Strong hands grip and knead your thighs
Mmmm........my touch beckon your legs wider
Fingers find their way to your moistening slit
Your silky sweet pussy is hot; it's on fiyah

And there, inside our plush love seat
our souls are makin' love
Hard throbbin' dick pulsating in your hand
Your wet lips envelope my hand like a silky glove

Involuntary motions, exstatic moans
Two wild animals in sensual heat
Taking each other to a hedonistic place
Playing with each others "meat"

Head back and gasping,
the sweet sound of my baby's cum
Body shudders in release
Now it's time to get "me some"

and right then your grip grows tighter
around my throbbin' meat
my hips begin their rhytmic thrust
as I rocket towards my release

"O my papi" you whisper
as I shoot my scalding load
collapsing into each other
as we finish love's episode

And I kiss you long and loving
Once again I stroke your long dark hair
Amidst our careless whispers
and the magic of our "love chair"

All writing remains the property of the author. Don't use it for any purpose without their permission.
likes

2

reading list entries

0
Commenting Preference:
The author encourages honest critique.