deepundergroundpoetry.com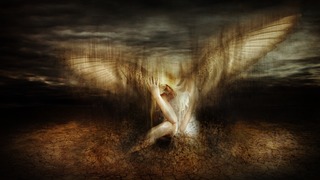 Broken Butterfly
Can a butterfly fly when her wings have been clipped?
Her perfection broken, shocked, stained and ripped
How far will she fall, and what's left below to land on
And if land she must, how long will she stay down?

Until she can believe that flying again is possible
Until her spirit feels there's a reason to continue

In the depths of confusion, loss, pain n hurt
What could possibly aid and offer some comfort
When the sky has been shattered, the sun disappeared
Leaving no warmth, just emptiness n tears

And what if she gets crushed by people passing by?
Quick to forget the once soaring butterfly
They continue to rush as if time hadn't stopped
Walking and laughing, not realising she's lost
As if life just goes on right through the cracks
Of a heart dealt a blow from which she just can't come back

And when it rains, what then?
Surely the dense cover of cloud must burst
Releasing the storm of a tremendous hurt
Raging every second of every day, hour, minute
Choking n drowning n silently breaking her in it

But wait, she rises and somehow she flies!
Achieving meek flight, at least for a while
Till her emergence is blinded by something so simple
that cuts right through, her wings instantly crumple
Hope fades away, memories flood through
There's a black hole again, and that black hole… is you

What will it take to repair her well enough,
get the strength to fly high enough, to heal and believe enough?

To fly far far away, up to the clouds to meet you
Fly right through the gates so she could come and greet you
So she could touch you, kiss you, hold you, consume you
Breath you deep inside and once again please you

Could she lay down beside you n create a tight cocoon
Metamorphasising together into something brand new
And burst out in the sky feeling once again complete
Flying free in the sun, flying to their heartbeat
Two souls dancing the butterfly courtship
So young, so innocent, so bound by friendship
Bound by joy, bound by love
Bound by a connection, not meant to be broken
Their energies intertwine, they glow, they perspire
Simple, pure, true love, thrusting them higher…

Into a deep sleep, from which she must wake
And search for her truth, stare it right in the face
Take it in, feel it, trust it, let it go
Understand there's some things that she will never know…

Can a butterfly fly?
All writing remains the property of the author. Don't use it for any purpose without their permission.
likes

3

reading list entries

1
Commenting Preference:
The author is looking for friendly feedback.