Content Warning : Do you want to continue?
This poem contains content which some readers may find disturbing.
It is unsuitable for children or anyone who is easily offended.
YES
I am over 18 years old, I have been warned and I still want to read this poem.
NO
I don't want to read this type of content, take me back to the previous page.
deepundergroundpoetry.com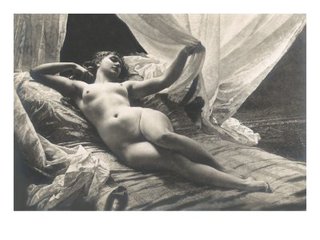 Kynigetis


she is F.U.C.K. itself –

Fornicatable
Unclothed
Cunnilingual
K (must remain unrevealed. I am sworn to secrecy.)

she's the star of my pornographies
woman at her most carnally basic
she is tits, cunt, ass. she is all mouth,
exploring the rugged terrain of a man's body,
finding the intimate places that are not browned by the sun.

kissing, licking, sucking.
taking me to a star that is a swirl of
heaven & hell in a mad impossible whirlpool.

she's the ultimate fellatrix, sucking my
ivory tower to the point of uninhibited release.
she swallows without tasting, the bitter
alluvials of my craven ejaculate.

sultry, dirty-faced angel
she's my sex-slave. in chains, she confesses her darkest sins, poetically.

I fuck her cunt to lube my cock, then snake it into
the shy tightness of her darkside, where I find the
answer to humanity's mystery; orgasm is the reason…

[how much stronger can a man love a woman,
than for the intention that man & woman were created:
to fuck!]



All writing remains the property of the author. Don't use it for any purpose without their permission.
likes

14

reading list entries

4
Commenting Preference:
The author encourages honest critique.