deepundergroundpoetry.com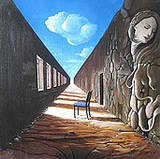 Lucid Nightmare
The dream begins easlily enough
Sun shining, people laughing
Familiar places.

Then your perception begins to skew
Shaping it's self according to your mood
The lucid nightmare has you.

Faces begin to elongate
Teeth become sharp
Eyes shiny and dark.

They chase me down alleys
Through city streests i've never seen
The demons sometimes appear as loved ones.

Though you know it's not them by their bark
You realize this is only a dream
You turn and see you have wings.

The demons barking at your heels
You take flight
Into the night sky.

Leaving them tethered to the Earth
Their faces fade away
The lucid dream has saved you.

You search and scan, for landscapes you recognize
On the balcony of a tenement
A sage appears.

He points out over a lake
There are people sailing
I ask him what is their destination?

He just stands there smiling
Leaving me with the question
He says it's up to each to pick there destination.

I then awaken
Shaken but grateful
For a lucid nightmare ended.
All writing remains the property of the author. Don't use it for any purpose without their permission.
likes

5

reading list entries

3
Commenting Preference:
The author encourages honest critique.