deepundergroundpoetry.com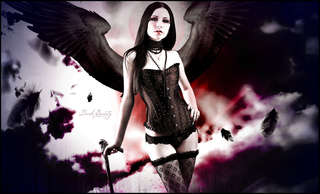 She Wears Her Black Wings With Pride
She wears her black wings with pride
Where once they were a brilliant white
Now they are dark as night.

She has traveled the mortal realm
Helping men, women and children
Anyway she can.

This world being so dark and twisted
Her wings began to tarnish
She doesn't want her white wings back.

She wears her black wings
As a four star general would
They are a badge of honor.

She has fought humanties wars
For centuries untold
At one time an innocent.

Now she is a warrior
Who will take down any opponent
She has transformed, she is magnificent.

She wears her black wings with pride
They show she is alive
That she has persisted through the war.

Her black wings her medals
Nothing can harm her
Not any little devil.

So take a good look at this angel
And remember those black wings
Mean danger.
All writing remains the property of the author. Don't use it for any purpose without their permission.
likes

7

reading list entries

3
Commenting Preference:
The author encourages honest critique.