deepundergroundpoetry.com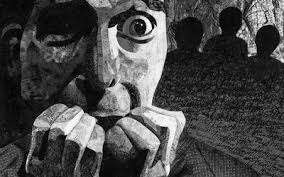 Schizophrenia
The agitation, anxiety a combustible thing
All these voices clamoring in my brain.
 
Seeing coded messages in every word
The t.v people talking to me, I obsess though I know this is absurd.
 
Flipping off the cameras, i'm sure are planted in my place
Begging and pleading with them to reveal themselves or get out of my space.
 
To venture in public, a terrifying idea
Wondering which friendly smile is a demon in disguise,
So back to my house I run and hide.
 
Taking my meds hoping this one will be my magic pill
Hoping finally, one of them will make my voices still.
 
The agitation growing out of control
Friends and family turned into demons, come to steal my soul.
 
Off to to the hospital dragged in chains
Terrified they are aliens come to pick my brain.
 
Drugged to the point i'm running into walls
Locked in a cell, no parole, no escape
When from this nightmare will I finally awake?
 
Afraid one day my family will give up on me
Alone on the streets screaming at the sky
Would be my end.
 
Schizophrenia, what a hand to be dealt
I'm grateful to my family, on me they haven't bailed out.
 
They calm and comfort me, no matter how ill
Crazy as can be they love me still.
 
I will find a way to learn on this journey, this trip
I won't let darkness, take me in it's grip.
 
I will learn to fly with my broken wings
Learn to make schizophrenia work for me.
All writing remains the property of the author. Don't use it for any purpose without their permission.
likes

9

reading list entries

4
Commenting Preference:
The author encourages honest critique.