Content Warning : Do you want to continue?
This poem contains content which some readers may find disturbing.
It is unsuitable for children or anyone who is easily offended.
YES
I am over 18 years old, I have been warned and I still want to read this poem.
NO
I don't want to read this type of content, take me back to the previous page.
deepundergroundpoetry.com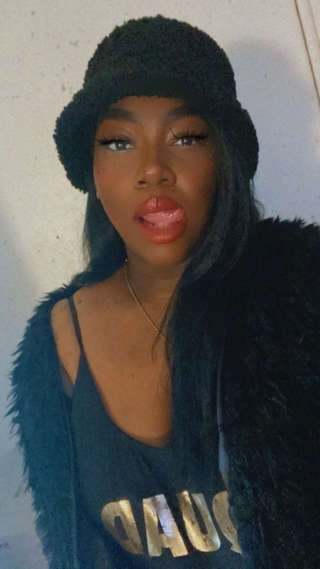 Put It In A Song...
I had the honor of featuring in the exotic, exhilarating show, "Vagina Monologues" some time ago. As a songwriter, lover of music, art & instruments, I dedicated this piece to DRUMMERS! Hope you enjoy.

...What I really wish to bestow unto you,
is every constituent and element
of my pussy at the sudden request of your desire.
Those kisses, sensually dramatic as a soap star,
and your fuck strut as flawless as a porn star.
Damn, daddy!
That GRAND fuck of yours,
incomparable to those dreams I had of you.
Deserved treat.
I'd just envision you, fuckin' me like the beat of your drum,
the effective screech of my pussy, loudly screaming
like a cymbal.
Pulsating my clitoris.
Your dick, the stick to my pussy snare.
POCKET!
Also known as a groove formed by musicians
flowing together to a jazz feel.
*I came*
My cream to your shaft, the taste of my own juices,
pre cum uncontrollably warming my mouth,
tongue kissing your tip,
allowing me to be in control, every bit, to its last drip,
licked off, sucked pleasingly!
He told me, this pocket has a groove.
I generously fell onto my stomach,
put my ass into the air & told him to beat it in six.
Hi-hat claps formed as he slowly inserted from behind.
Mmmmmmm!
My moans grew louder, & stronger.
MIST! MOIST! ! BASS! DRUM!
G-spot reached, I then release, again!
Orgasm! Trembling legs like paradiddles.
Double time.
Like your favorite jam, you don't wish to end this beat,
Give it to me.
Let me feel that stick hit this snare,
throbbing sounds, bouncing off my pussy.
My walls energized.
His entire beautiful 5As.
He easily releases and peacefully falls out.
His powerful liquid love leaks from me.
I wipe him, I wipe me.
Lick his taste one final time,
switching away to the thoughts of his beat.
Boom! Clap! Bam! Pow!
All writing remains the property of the author. Don't use it for any purpose without their permission.
likes

5

reading list entries

1
Commenting Preference:
The author is looking for friendly feedback.