deepundergroundpoetry.com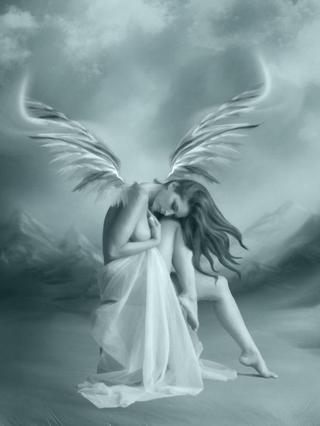 Re-Write Competition Entry
I just really hope I can give some justice in this re-write of HadesRising's Poem UNDERNEATH THE MOURNING STAR.

http://deepundergroundpoetry.com/poems/120851-underneath-the-mourning-star/

The Tears of a Love Star

A loneliness,
of such I've never felt,
As he departed from my side.
I reached out to emptiness,
as his face disappeared,
from my sight.

My angel, my warrior,
From this war,
I yearned for your return.
For evil is inferior,
I won't will let my heart be marred,
my love for you will continue to burn.

   God's eyes, followed
     my empty, yearning being.
     Without my mate,
     I was lost in my thoughts
          I kept thinking.

Lonesome nights haunted me,
as crystal like tears
betrayed my angelic mask.
I prayed to God,
for his safety,
his return, oh! I don't dare ask.

     Little did I know,
     to where belong my inner fear.
     Little did I know,
     that God had cursed be with displeasing glares.

Boisterous was the heavens,
at the little news
of the war.
I heard the word,
Victory,
Was he returning at last?

     His name was mention,
     but not a word of his life.
     The tension ate at me,
     for my want to know if he was,
     dead or alive.

With what seemed
like sadness in eyes,
God spoke to me.
That death had overcome,
the one, bravest in
victory.

A pain like no other,
sent through my spine,
an electrifying shudder.
As I double over in agony,
at the lost of my
one and only angelic lover.
Hear, I could barely,
as God's voice thundered,
"Thou shall worship no other
God than me"

ME! ME! ME!
As it echoed in my head.
Due to this war,
my love is now dead.
Consumed my darkness,
tears of torture I bled.
Selfish God!
My chest tightened,
my eyes blinded red.

I will never feel the
texture of his radiant wings,
the feel of his soft feathers.
I love so pure,
a touch so innocent
how could I love another?

If this is sin in your eyes,
I cast myself out
of your heavenly domain.
Where I alone,
can continue to cry
in vain.

For no amount of tears
will bring bring him back
to my side.
I shimmered out of his
selfish egoist protection,
and let myself fall from the sky.

   
All writing remains the property of the author. Don't use it for any purpose without their permission.
likes

3

reading list entries

1
Commenting Preference:
The author encourages honest critique.