deepundergroundpoetry.com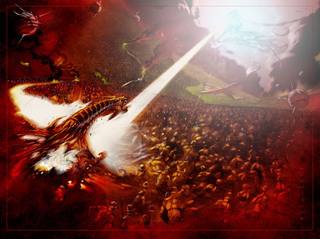 The Ascension of Surtr, (The Continuing Saga)
I will gather under my wings

all nations of men

To receive of my, "Baptism,"


Thru blood up to the horses bridles,

unto me will they be consecrated

No other battle in your history,

will rival my, "Disasterpiece,"


Theatre


My masterpiece will not be quelled,

till my desire be sated

For it is written, "He has put it in

their hearts to fulfill, "His," will,"


All the other, "Gods," will be absolved

of their place in the, "Cosmos," and

"One,"

"Will," will permeate all beings to the

Utmost


So what we see is the playing-out of

history fore-told, reel by reel


Mystics, prophets, ancients and oracles,

all saw this betimes, concerning your world


"Enlightened-Ones," w/ a deeper consciousness

all had this revealed w/in them

Concerning the, "Historical-saga," that is to

transpire within this realm




Furthermore concerning this matter;




The world was not, "Created," in one day

It took a, "Process of Time," for it to become

The perfect way, that it is


There were explosions, implosions and awesome

Disasters

Matter split

Elements rent and then melded back together that

wisely made everything habitable


Even so thru man, who is still being, "Created,"

thru an, "Divine," "Master-plan,"

He does imitate thus

For he is a world all his own, within which is a

Home


He is volatile, violent and seemingly unstable to

the unknowing eye

But thru his actions, I will be perfected, "By and By,"


For all this will not bring about an complete end or

eternal cessation of existence like some pessimists like

to apply

But like my, "Norwegian," seers foresaw, this will usher

in the era of, "All-Father," when men transcend and live

as, "One," and, "I," "All-in-All,"
All writing remains the property of the author. Don't use it for any purpose without their permission.
likes

4

reading list entries

0
Commenting Preference:
The author encourages honest critique.