deepundergroundpoetry.com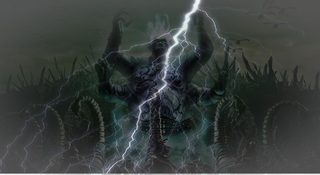 An Ancient godís Fury

Told I this in tales of yore
the mortal daughter of Irra †
existing in Akkadian fields †
was set upon by villains †
torn and struck she fell supine †
silent screams of spilled blood †
reached her father in slumber †
with his consort Mami †

Roar his rank upon the sky †
screams of righteous rage †
ripped the tormented firmament †
swirled in grey the tapestry †
of life within the glory †
of created existence †
trembled and pulse †
in terrified horror †
†
Irra in fury rode again †
God of all gods of pestilence †
with his seven generals †
sought he hard the men †
who shattered his child †
his beloved only mortal child †
the slayers shall be hounded †
without sanctuary †
†
Upon the land of the wicked men †
he ran his legions close to earth †
fire from swords forged †
with sulphur and brimstone †
coldness from the wells †
of famine and hunger †
he seeded and sowed the land †
relentless in his rage †
†
His screams of anger †
thundered in the sky †
his relentless fury †
birth cracking lightning †
the sea trembled and tossed †
the land cracked and rumbled †
nothing was left standing †
Irraís fury was complete †
†
Untill at last the Eastern Prince †
calmed the land with His Love †
his promises and Atonement †
to give His Life for the sins †
of man who killed †
and plundered †
without shame †
turbulence rested.
All writing remains the property of the author. Don't use it for any purpose without their permission.
likes

6

reading list entries

1
Commenting Preference:
The author is looking for friendly feedback.