Content Warning : Do you want to continue?
This poem contains content which some readers may find disturbing.
It is unsuitable for children or anyone who is easily offended.
YES
I am over 18 years old, I have been warned and I still want to read this poem.
NO
I don't want to read this type of content, take me back to the previous page.
deepundergroundpoetry.com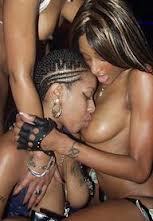 MENAGE A TROIS
My first girl threesome
Something I always wanted to tick of my list
Wishes do come true
Girls night in Hennssey flowing
Mutual attraction some girl on girl on girl action
Me and my ebony beauties
Dionne and Toni about to have some fun
I kneel in front of Dionne
Trace her full lips with my tongue
I slowly begin to undress her
She lowers her bra straps exposing her breast
Her nipples are so hard
I hear Toni moan from across the room
Then movement as she joins us
Toni starts to flick Dionne nipple
Then encloses it in her mouth
I suck on the other massaging flicking sucking
Gasps escapes her lips
Three of us getting turned on by the minute
My hand traces up her skirt Dionne moans with pleasure
I finger her with expertise
Toni puts her head between Dionne thighs
I part Dionne pussy lips as Toni tongue hits the G spot
Place her legs on the arms of the chair… wider for better access
As Toni tongues Dionne I kneel behind Toni
And eat her from behind
She arches her back and spreads her legs
I fuck her with my tongue
Reach up and grab her breast twirling her nipples between my fingers
Toni is so wet her juices run down her inner thighs
We swap positions
Toni's turn for full attention
Dionne sucking on her pussy
I suck her hard nipples... Kiss her soft lips
Toni lies between my thighs
Her wet tongue teasing my clit
Start rocking my hips tells her to push her tongue deeper
I tell Toni to part her chocolate thighs
I start to grind her clit to clit
She plays with my breast
As I wind on her throbbing clit
Juices combining
Dionne sits on the arm of the chair
I lower my head and lick her swollen clit
Both winding their waist one against my tongue
The other against my clit
I place two fingers in her pussy
The powerful aroma of her turned on pussy
Makes me climax more than once
Dionne starts to shout
"I'm coming" begging me to suck hard on her clit
As I'm sucking I feel Toni buckling
Legs getting wider
Shouting gets louder
Orgasm fever
I kiss them both on the lips
Definitely something we will have to repeat
All writing remains the property of the author. Don't use it for any purpose without their permission.
likes

10

reading list entries

3
Commenting Preference:
The author is looking for friendly feedback.