deepundergroundpoetry.com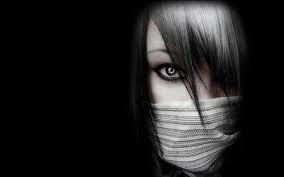 Am i normal...?
Her smile, they will never see.
Her laugh, they will never hear.
She hides behind the tears of a clown, in a deep black hole..lost in the middle of nowhere. Would you trade shoes with her? Would you want her life? Her empty,unfulfilled life. Like a clock without numbers, a mirror without glass. A knife without a blade. Yes. Her blade. Her beautiful, magnificent blade. Thats what she thinks about all day at school when she sits alone in class. Alone again at lunch time. That small, shiny piece of metal gets her through tough days. Just the thought getting home and knowing it will be there, reassures her. The jagged edge of her best friend is sunshine in her cloudy eyes. Why does nobody else feel like her? Is something wrong with her? She cant help but think this all the time. She worries about it. About how she feels elated, free,when she pulls it across her wrist. Her thighs. Her stomach. About how she likes the way the red lines look against her ivory skin. She worries about how she likes to run her soft fingers across her scars. It helps her. Eases the screaming voices in her demonic mind. When the ruby red blood flows gracefully down her skin, she is sent into a frenzy.Its so addictive like nicotine. One cut is never enough. But no, she mustn't.She promised her best friend that she would throw away the blades, that she would listen to music when shes upset and not take it out on her once beautiful body. She knows it was a stupid promise. It wont be long before the urge overcomes her and takes advantage of her weakness. She needs that blade to burn away the cobwebs that drape her aching heart. She needs it to be happy, to get through the nights without crying herself to sleep. She needs it to survive.
All writing remains the property of the author. Don't use it for any purpose without their permission.
likes

4

reading list entries

1
Commenting Preference:
The author encourages honest critique.