Movies
Casted_Runes
Mr Karswell

5
Joined 4th Oct 2021
Forum Posts: 293
---
Thanks for this Ben! I've not seen any of these movies and this is a great list for me to save and work through!
DanielChristensen
The Fire Elemental
33
Joined 27th Feb 2016
Forum Posts: 185
---
I watched The French Connection on a lark and it was kind of the earmark of budding 70's machismo, nostalgic to see New York at the tail end of all it's small businesses crammed together with the overhead security gate grills that slammed down at closing time, before things became more commercial and gentrified, the vehicles with their vestigial 50s body designs, curves and fins smoothing down towards the more uniform utility you see now. There are aspects of cinema that are relevant but don't appeal to me overmuch like the continuous flowing camera scenes of John Wick, though I very much like the symbology you see in things like a Kubrick film, every aspect of the milieu and dialogue with meaningful intention. Eyes Wide Shut took a casual viewing and then a more careful one to grow on me, for example. I watch a lot more series than movies this past year, though, so much available like House of Cards, etc.
Casted_Runes
Mr Karswell

5
Joined 4th Oct 2021
Forum Posts: 293
---
Well, I just saw Unwelcome, and although it's only January, it's a hot contender for my worst film of 2023. I take back every hurtful thing I said about Halloween Ends. I was but a spoilt, callow youth when I let loose my bile on that innocent picture. I did not know how good I had it. I don't think that I've ever walked out on a movie, at least not in the cinema, but I came close here. What on Earth did Kim Newman, a great horror writer and critic, see in this piece of shit when he said that the "suspense works and the mix of grue, cruelty and eccentric wit is distinctive"?

Nonetheless, since it's polite to start with a positive, that's what I'll do: veteran Irish actor Colm Meaney is genuinely effective and believable as a thuggish Irish patriarch. Even at almost 70, he's an imposing and brutal presence. The commitment that he brings to lines like "if he touched your woman, I'll punish him MY way" belongs in a much better film with a greater understanding of its characters and themes.

The one other positive I have is that the final sequence is well-staged and picturesquely macabre. The film of course ruins it by cutting to one of the protagonists crying out in a manner that's not believable, but the imagery works in a deliberately gaudy and stagy fashion. That's clearly a part that's taken directly from the folkloric tale that the film's based on, and divorced from the utterly ridiculous set of characters and situations that have been set up to contain it, it's compelling.

The story is that a handsome young couple has just found out that they're expecting when a gang of thugs breaks into their London flat and brutally beat them, Death Wish-style. Good fortune, then, that the man's elderly aunt dies and leaves them her home in a remote Irish village where everyone knows each other's name. But when they arrive they learn that the old woman left a "blood sacrifice" of shop-bought meat each night at the property's perimeter, for the "redcaps", little men that live in the woods… A secondary plot then develops with Meaney as a local builder, hired to fix up the house, who insists on being called "Daddy" and is assisted by his three loutish adult children.

The script for all this is one of the most appalling and tin-eared that I've heard delivered in a while. "Your auntie left us her house" we hear over footage of a car driving through a pastoral scene (bizarrely, the same shot is used later in the film to imply that the characters are fleeing, despite the next shot establishing that they're still in the village.) "That is a good thing and we will have a good place to recover from our trauma." Not a direct quote, but might as well be. The next conversation then repeats the same information, making the previous exchange pointless.

Characters don't talk like human beings. At one point, apropos of nothing, the woman just starts relating the story of a previous abortion to a Catholic priest. I may try something similar sometime. Show up for a tour of a church and start telling the priest that Bible be damned, I do love bum sex and heavy metal. The exchange might have had a point if it was to establish the hostility of the town and its archaic traditions to this young, modern couple, but the priest is remarkably tolerant.

The only villainous human characters among their new neighbours are "Daddy" and his clan, the Wheelans, which just confuses an already badly constructed and written story. The village has no sense of reality to it, at no point feeling like an actual community of like-minded individuals. The film is drawing for its setting on the '60s shocker Straw Dogs (which Unwelcome's makers have cited as an influence), especially in a profoundly ill-judged plot point about an attempted rape carried out by a mentally disabled character.

Straw Dogs was about another young couple who come to a rural UK village and end up menaced by rapey locals, including a man with special needs. I'm not a fan of Straw Dogs, it's pretty sleazy and disgusting, but it at least had consistent themes about the borders of civilisation and the social contract and toxic gender roles. Unwelcome likes the idea of those themes, I guess... but has no clue what to do with them. Since the Wheelans are the only villagers that are truly hostile to the protagonists and are regarded as outsiders by their neighbours, the title "Unwelcome" doesn't even make sense. Wouldn't "Redcaps" have been a better title, or "Mother Redcap", given the maternal theme?

Presumably to justify its title and what it THINKS it's about, the film tries to bring up a thing about Irish resentment of English settlers, but it's so nonsensical (as the guy says, his aunt - an Irish local - left him the house, making him its rightful heir) that it ends up coming out half-hearted. As well as like a lazy and facile attempt to add motivation to utterly cardboard antagonists. Once again, only the Wheelans make these remarks, none of the rest of the village. Maybe the moral is to not hire builders who are obvious psychopaths.

Dialogue in general varies between stupid and expositional, but since the characters act like morons, I suppose it's of a piece. A heavily pregnant woman who's already been brutally beaten decides to chase a dog through thick woods that she's unfamiliar with, for example. There's so much wrong with the story and how it's told that I'm honestly floundering in my attempts to cover it all. The basic setup with the redcaps and their blood sacrifices doesn't even make sense. The expectant mother won't allow a harmless old lady to enter her garden each evening to deliver the meat in place of the late aunt, because that's too triggering given her experience in London, but WILL allow a gang of lumbering rapists to smash windows, leave shit in the toilet, and bully her husband, under the guise of them doing up her house. And why can't the old woman, I don't know, APPROACH THE PERIMETER FROM THE OTHER FUCKING SIDE? Gordon Bennett…

Going back to the Straw Dogs influence, it has to be said that this is a film where almost from the moment a young woman finds out she's pregnant, she's thrown across tables, threatened with knives, sexually assaulted, screamed at and abandoned by her husband in the wake of this latter trauma (don't ask), brutally beaten just after her water breaks… and for what? I'm not offended by it (I wouldn't give the movie that credit), but it's like the rule of thumb about using rape in a story: if it's essentially just window-dressing, it shouldn't be there. No one ever brings up the possibility of this woman having a miscarriage, or the child coming out damaged, despite the constant physical and mental trauma that she's subjected to.

The film is possibly aware of its potential for misogynistic readings, so another of the themes it tries to deliver and then just allows to sag is toxic masculinity. The husband is a sensitive bloke, unused to violence, so of course he's repeatedly emasculated until at one point the film teases us with the possibility of him being raped, his attacker saying: "you fight like a girl, you get fucked like a girl." Classy. Not that the film would go any further than that line. The concept of rape is just there as window-dressing, a little nudge, a little tease… CONT. IN NEXT POST
Casted_Runes
Mr Karswell

5
Joined 4th Oct 2021
Forum Posts: 293
---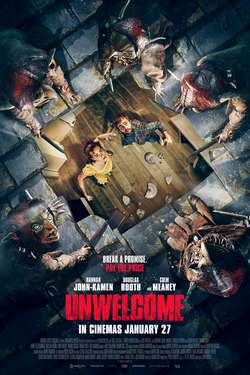 CONT. FROM PREVIOUS POST With regards to its ineffectuality as a horror film, it doesn't help that it's shot like a parody. The cinematographer was probably going for a dusky look, representing the mystical hinterland between night and day, but it just makes everything look like Shaun of the Dead, a film that was supposed to be funny. Again, the staginess works for the climax, but for the rest of the film, it just looks cheap and almost televisual.
And I haven't even gotten to the supernatural element yet… Suffice it to say, the redcaps look and sound like they belong in a parody. Not that they're badly designed, per se, but they're just in need of a story that's better able to utilise their Gremlin-like quality.
So, yeah, that's Unwelcome. Like if Straw Dogs and Gremlins came together. Without any clue as to why or how.
Casted_Runes
Mr Karswell

5
Joined 4th Oct 2021
Forum Posts: 293
---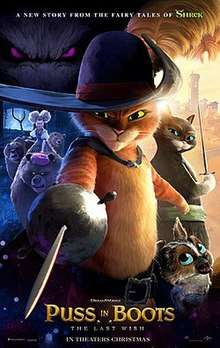 I just saw Puss in Boots: The Last Wish and it was really good. It's the best new film that I've seen in 2023, which indicates either how good it is or how bad my choices have been. January's always a slow month for movies, of course, and now it's February maybe good ones are starting to surface. The Last Wish is a children's fantasy story, but it makes better use of its folkloric elements than Unwelcome, has a stronger love story than Babylon, and even contains eerier "horror" sequences than M3gan.
The story is that the titular Puss, voiced by Antonio Banderas in a parody of his Zorro performance, is down to the last of his nine lives and looks set to retire as one of many pets looked after by a cat lady. A magical map promises one wish to the person who finds the star that it leads to, however. So, accompanied by a doggy sidekick without a name and ex-fiancée Kitty Softpaws, and pursued by a range of characters also seeking the wish, he goes on a quest to reclaim his nine lives.
The Last Wish has a lot of characters, including a pie baron-cum-gangster version of Little Jack Horner (now "Big" Jack Horner, a name that kept reminding me of Burt Reynolds' pornographer in Boogie Nights) and a dire wolf-esque bounty hunter whose entrance is always presaged by an eerie whistling, like wind through bones… Normally when a franchise film is this loaded with characters, it's a clear sign that it's overstuffed and therefore underwritten, but The Last Wish juggles all of them well, not one feeling extraneous or half-finished.
It accomplishes this in part by gently tweaking our ingrained knowledge of the fairy-tale repertory and its dynamics. Florence "Midsommar" Pugh, for instance, shows up as a Goldilocks working in harmony with the three bears, who serve as her found family of small-time crooks. (Ray Winstone and Olivia Colman play Papa and Mama Bear, respectively.) Jack Horner, meanwhile, is an entitled and remorseless (I hesitate to say Trumpian…) tycoon who in one of the movie's funniest running gags gets his own Jiminy Cricket, a Jimmy Stewart-toned icon of ethics and morals whose relentless optimism about human nature is flayed bare by the purple-thumbed prick.
The dire wolf is genuinely a little frightening for a children's character, his red eyes, elongated snout, menacing whistle, and implacable determination to end friend Puss provide a real threat. Yet he's not too much, either.
The animation is gorgeous, incorporating a stark and stop-motion approach for action and battle scenes, feeling like a living comic book at times. The medieval-esque landscape is well-evoked and you get more of a sense of place than you do in some fantasy films. The world feels much richer and more multifaceted than that of Disney's recent Strange World, the whole point of which was to provide a sense of profound depth and scale.
If the plot of The Last Wish is a little busy at times, that makes sense to its goal, which is as much to entertain tots on TV as an audience on a big screen. It's a genre film where every element has been expertly handled, a franchise entry that's a credit to its predecessors.
Casted_Runes
Mr Karswell

5
Joined 4th Oct 2021
Forum Posts: 293
---
I just watched Ant-Man and the Wasp: Quantumania and it was surprisingly enjoyable. It's getting a lot of nasty reviews and I'm not sure why. Maybe I'm out of the loop with what people expect from a comic book film, but this one provided me with just about what I was hoping for. The story is that Ant-Man (Paul Rudd), his partner the Wasp, and their family (including Michael Douglas and Michelle Pfeiffer) are transported to "the quantum realm", a world outside time and space where a tyrant called Kang the Conquerer (Jonathan Majors) is trying to escape so he can continue his genocidal shenanigans across the multiverse.

All of this is told in a light and breezy and ultimately inconsequential fashion, much like, well, a comic book. I'm not a huge fan of the whole superhero thing in its current incarnation and honestly find it a little fascist. I can't even remember what film this was now, but there was one where Captain America was playing on a TV to some school kids and it kept reminding me of the parodic fascist advertisements in Starship Troopers, with troops encouraging kids to sign up to kill the Arachnids.

There's a bit of that here, with cringe-worthy dialogue about how a man's word is his bond and Ant-Man inspiring kids. But overall the script is functional and moves at a fair clip, never growing tiresome. (Except in its climax, though I always find those tiring in Marvel movies. Do they ALWAYS have to end with an extended punch-up?) There's also a good amount of humour, which I appreciate in these movies as someone with no emotional attachment to them.

The acting's all fine, although the only standout is Jonathan Majors, who brings real personality and menace to Apocalyptic Big Boy #36198. At the other end of the spectrum is Bill Murray, appearing in a cameo much like the one that he "contributed" to the Ghostbusters reboot. By which I mean he shows up, immediately sits down, and mumbles nonsense for 10 minutes before getting dispatched. But I guess you've earned that level of laziness when you're Bill Murray.

The design of the quantum realm is a lot of fun, as are the creatures that the characters find there, and there are sci-fi set pieces that are genuinely intriguing, such as a probability paradox spawning a whirlpool of alternate reality Ant-Men in a black void. I also liked how much of an important role Pfeiffer played in the plot. It's good to see an older actress presented as an active protagonist in one of these movies and not just relegated to a supporting role.

None of this is life-changing, of course, and it's not anything like as stylish or memorable as Sam Raimi's recent Doctor Strange film. But it's an absolutely fine slab of populist entertainment and eye candy. I'm not sure what, for example, the critic who gave it 1/5 in The Times wants from a film with a plot like the one I described above. Ingmar Bergman's The Seventh Seal? Stanley Kubrick's 2001: A Space Odyssey?

All I really wanted was picturesque visuals and Paul Rudd looking sexy-but-unthreatening. (He may be the only man who can look both #Daddy and adorkable in a Baskin Robbins uniform.) And I got that, so it was a good Friday night out.
Casted_Runes
Mr Karswell

5
Joined 4th Oct 2021
Forum Posts: 293
---
I just saw Cocaine Bear and it was okay. It moved very slowly for far too much of its first act and never quite develops the pace that a film like this needs, but it has a couple of great set pieces and amusing performances, and is overall a relatively slick piece of work for the genre that it's in. It's basically a slasher film with a bear instead of a man in a mask, which isn't a bad choice given that it's set in the '80s, but it distinguishes it from classic "animal attack" movies in its lack of realistic natural detail. (Of course, Sharknado is an "animal attack" movie and Cocaine Bear is certainly slicker than that. Come to think of it, the genre may be one of the junkiest around, outside the original Jaws and Jurassic Park…) There were even a couple of shots that reminded me of false alarms in movies like I Still Know What You Did Last Summer.
I was surprised when researching the film to find that it was directed by Elizabeth Banks. Normally when an A-list actress moves into directing you expect her to take on more arthouse projects, like Angelina Jolie with By the Sea and First They Killed My Father. Or at least a classier and less pulpy type of suspense than a concept like Cocaine Bear, which describes itself as based on true events but was derived from a post on Reddit (seriously) speculating about a true event from the '80s, where a drug runner died when he became tangled in his parachute and a bear found some of his cocaine before eating it and dying horribly over the course of an hour. (Admittedly, the true event wouldn't make a fun movie.)
Still, Banks directs it as well as or better than any grizzled middle-aged junk merchant called Marty G Walnuts III would have, though perhaps not with quite as much gonzo elan. I assumed that this was her debut, but she's also made Pitch Perfect 2 and 2019's Charlie's Angels. Proving the important feminist point that women can also make exploitation trash, I guess.
The best non-bear parts of the film involved two kids and one of their mums and the late Ray Liotta, underused as a drug runner who both looks and sounds the most authentically 1980s of anyone in this film, right down to his yellow-tinted specs, brown leather jacket, and toothpick-chewing sleaziness. (I don't know if he ever does chew a toothpick, but he seems like that kinda guy, y'know?) He looks, in fact, like the kind of guy who'd normally be directing a film called Cocaine Bear.
Banks is very good at directing children, which can be a painfully rare thing in movies, and gets an excellent comedic performance in particular out of the little boy in the film. He was possibly my favourite of the human characters, and I NEVER say that about kids in movies. The little girl was good too, and there's a well-observed scene where the two of them find a packet of cocaine and the boy tries to impress her by claiming to be a seasoned user. It feels like how kids in that situation would behave and is a pretty funny comment on the ineffectuality of Just Say No programmes of the 1980s (some of which are shown in the opening, including Pee Wee Herman helpfully advising that crack is not "fun, or cool, or kid's stuff"). I also liked the mother character, although she makes some… questionable decisions.
The film doesn't rise above a certain level due to some annoying directorial choices and a lot of subplot material that no one could conceivably care much about and should have been jettisoned like coke from a jet. There are occasional flashbacks and windows into characters' thoughts that are completely useless flourishes. One of them seems to have been added on the thinking that the audience is idiots and won't remember something that they saw five minutes ago. Another one doesn't make logical sense and is just kind of mean without a point, as one character imagines people in poses representing their fates, which he isn't aware of. (You'd have to see it to understand.) Yet another seems to have been added because the director couldn't figure out how to fit that part of the story into the linear sequence.
Meanwhile, subplots involving a park ranger romancing a wildlife inspector and a police chief's acquisition of a show dog fall flat as comedy (the former especially; the latter at least provides a cute doggy to coo over). There's also a twist involving one character's loyalties which is just so much nothing. The director needed to tell the writer that they're making Cocaine Bear, not The Departed.
However, when the bear does get busy, the film can be riotously entertaining. Easily the best sequence in the film involves a literal ambulance chase that's perfectly scored and staged. If the whole film was as gruesomely fun and blackly funny as that scene it would have been a weird kind of masterpiece.
Casted_Runes
Mr Karswell

5
Joined 4th Oct 2021
Forum Posts: 293
---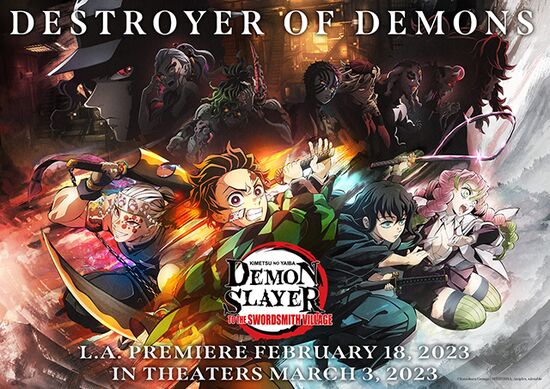 So I just saw Demon Slayer: To the Swordsmith Village and it was… a thing. It was moving images projected onto a flat surface commonly referred to as a screen. And in this crazy world, isn't that better than a kick in the delicates?
Look, I'll level with you. I wouldn't normally choose to see an anime sub. But out of what was playing at my local multiplex, it was either this, Creed 3, Magic Mike 3, or What's Love Got to Do With It? In other words, two second-sequels to franchises I've never seen and something that I have less than zero interest in seeing. (No offence to romcoms, I can think of at least a couple that are among my favourite movies, but it's a genre that churns out more flavourless mush than horror. And at least in horror, I can see someone's head explode.)
Oddly, I had seen the previous Demon Slayer film, the one set on a train. (Infinity Train, from 2020.) It may have been the first anime sub that I'd seen in a cinema. That one, I recall, actually felt like something that should be playing in a cinema. It was confusing to the uninitiated, but it had a three-act structure and a clear antagonist. To the Swordsmith Village, on the other hand, is not a film. It's three (or maybe four? I wasn't counting) episodes of a TV show not even tied together but just played sequentially, front and back credit rolls 'n' all. I only knew which credits to leave during based on when the house lights went up and everyone else started leaving.
The plot is that a team of YA samurai in a fantasy world based on feudal Japan slay demons, who function much like the demons of Christian mythology, corrupting and collecting human souls. The main character is Tanjiro Kamado, an orphan with a scar on his face (huh, sounds familiar…). He's accompanied by his little sister, who's half-demon following the assault on her and her brother's family, which killed their parents. She's mute and wears a bridle bit, functioning in an animalised grey area between demon and human.
That's all that I can describe of the basic plot, not to prevent spoilers but because there isn't really a plot. Neither is there a beginning or end in any useful sense. A lot of the first half is taken up with a fight at a burning village with sibling demons, a brother and sister. The visuals and soundtrack are frequently very impressive. This is a very well-animated "film", packed with imaginative and surreal visuals. The soundtrack jumps between heavy metal, rock, and what sounds like electronica, adding a real kick to the fight scenes. While I wouldn't recommend this "film" to anyone who's not a diehard anime fan, it is impressive to look at.
Unfortunately, it does on occasion reflect a weird obsession in anime with paedophilia and misogynistic violence, making me think that Japan's entertainment industry is in dire need of its own MeToo movement. The sibling demons' backstory is shown and based on what is said to have happened to the girl before she became a demon is handled relatively tastefully, but it's still… ugh. That said, their backstory was my favourite bit of the film on a narrative level, as it's the most complete and involving bit of "plot" on offer. It has an air of classical tragedy about it.
On a purely audiovisual level, the best part was set in the Infinity Castle, a demonic network of stairways and platforms and rooms akin to an Escher painting. The disorienting camerawork as it moves around the castle in several dimensions is reminiscent of Christopher Nolan's Inception, and it feels very much like a place out of a nightmare, populated by weird chattering monstrosities like limbed heads with mouths for eyes.
So that's Demon Slayer: To the Swordsmith Village. A pretty (oh so pretty) vacant experience for me as someone who doesn't follow the TV show, and I wouldn't even class it as a movie. It may be the most narratively uninvolving thing that I've seen in a cinema since... I don't know what. But I'm glad I saw it. Kind of. I think.
Casted_Runes
Mr Karswell

5
Joined 4th Oct 2021
Forum Posts: 293
---
I just saw Scream VI and it was a lot of fun. I saw it on a double bill with Scream V (I refuse to call it Scream), which I'd already seen, although I think that I liked it a bit better this time. I liked it before as a silly satirical piece, but this go around the motivations felt a little funnier and even slightly more believable as a commentary on toxic fandom. There probably are privileged and psychopathic idiots on message boards like the sickos of that film, so detached from reality that even as they're about to be disembowled they're still whining over their fan grudges.
Scream VI takes the story out of California to New York, where survivors of the last film Sam and her sister Tara have fled to find a new life. The adorable, bug-eyed moppet Tara is now in college while Sam is seeing a therapist, still worried that her family heritage will make her a killer. From there the film follows Scream II's template by expanding the circle of suspects (or setting, at least) and increasing both the body count and gore. (There's a heavier focus on facial destruction in this one, knives through an eye and mouth and nose.)
It was fun seeing these movies in a cinema with an audience of fans for whom at this point the franchise functions as a cross between an in-joke and a soap opera. Days of Our Lives, but with spurting wounds. It's the kind of franchise that encourages talking back to the screen to a certain extent, laughing and gasping at the absurd twists in the plot.
The film did something legitimately new with the story as well, starting with a prologue that plays with the rules of the slasher genre and ends on an amusing reference to the prologue to Friday the 13th: Part II. The solution to the whodunnit is also somewhat original to the series, though modelled on elements from Scream II. If this is the Jason Takes Manhattan of the Scream franchise, it does more with the concept than that film did. Some of the set-pieces are genuinely creative and nasty in the vivid pulp style of classic slashers.
Unfortunately, the writing appears to have caved a little to the trend in American franchises to make everything about "family"; there are so many references to the theme in the dialogue that I half-expected Vin Diesel to show up and give an eyes half-closed nod to the protagonists.
I could have done without a fair amount of the sentimental speechifying and teen drama dynamics. The fact remains that all of the Scream films post-III are basically trashy epilogues without the same intensity and suspense as the original trilogy.
But it's also true that that doesn't really matter. Scream VI is utterly absurd, but it has gory killings, soapy theatrics, and lashings of nudge-nudge wink-wink silliness, all wrapped in a twisty and pleasingly trashy whodunnit. It's grisly good fun and it leans into its own absurdity, such as a truly laugh-out-loud moment where a character survives when they really, really, really shouldn't have.
It would be easy to grouse that it doesn't rise to the heights of Wes Craven's original satirical vision. None of the dialogue is as "chef's kiss" as the immortal monologue from Scream II. ("I am sick to death of people saying that it's all the parents' fault, that it all starts with the family. Wanna blame someone? Why don't you blame YOUR MOTHER?") But if you like slashers, Scream VI is a roaring good time, one to see in a theatre packed with fans who know all the tricks and tropes of the territory.
Casted_Runes
Mr Karswell

5
Joined 4th Oct 2021
Forum Posts: 293
---
I just saw Pearl, directed by Ti West and co-written by him with lead actress Mia Goth, and despite a slow start it was honestly amazing. It's a film that's absolutely sold by its lead performance, which is frankly one of the best of the year (last year for American audiences). If movies this weird, gory, and deliberately awkward won Oscars, Goth would at least have been nominated. It's a film that seems like it's going to be a pretty standard nudge-nudge-wink-wink slasher comedy, but evolves into a genuinely unsettling, even heartbreaking portrait of a sick young woman who was doomed from the start.
Goth takes this character to places that a lot of actresses would be afraid to. It's relatively easy to play a funny feminist serial killer in a knowing slasher film (see: Jennifer's Body, American Mary, Promising Young Woman), harder and braver to make a character as ultimately, harrowingly pathetic as Pearl. The last shot lingers on Goth in a moving image that sums up her character and is more haunting than anything I've seen this year.
Pearl is the second in a trilogy by West and Goth, a prequel to X, a slasher film set in the late 1970s and about a pornographic shoot on a Texas farm owned by a maniacal elderly couple. The trilogy, due to conclude with MaXXXine (set during the rise of VHS in the mid-eighties), is a meditation on pornography, madness, ambition, and jealousy.
Pearl takes place in 1918 as its titular character, the daughter of German immigrant farmers, dreams of becoming a dancer in the silent movies that she sees without her cruel and austere mother knowing. Pearl's husband, the son of a more affluent family, is away at war. But as the Spanish flu grips her small community (definitely a COVID allegory going on here) she starts to be seduced by a sleazy projectionist with a sideline in "stag" (porno) films.
Pearl's mother says that she will never leave their farm and must spend her days assisting with its upkeep, as well as the care of her stroke-addled father. But Pearl has big dreams, and a frightening lack of moral sense…
The prologue is apple-tart and sun-drenched, utilising vintage production styles to present a world parodying the technicolour melodramas of the 1930s as well as the silent era of its actual setting. From here you think that you know what you're in for: a gleefully ironic and safe subversion of tropes, a Girl Power satire in the Promising Young Woman mould. And there are moments of humour. But what unfolds becomes progressively more awkward, starting with a scene where Goth is made up like Dorothy and dancing with a scarecrow in a manner that wouldn't have made it into The Wizard of Oz.
By the second act and Pearl's descent into madness, the film has become a grotesquely compelling and surprisingly empathic, truthful character piece about a psychopathic personality. You can't tear your eyes away from it, especially during a long monologue cruelly focused on the character's mascara-stained face as she empties out her soul. Normally in a film like this the murders would at least be cathartic, but West and Goth show nerves of steel by not presenting them that way. It would have been so safe and easy to have Pearl eviscerate cardboard cutout aggressors, allowing her to seem smarter and scarier and more powerful than everyone else, an audience surrogate for enacting revenge fantasies.
But Pearl the character is not frightening. She's not very bright, not very talented, and helpless in a way that makes her an object of pity. Her victims don't really deserve to die, and it's pathetic how the light leaves her eyes when she attacks them. The story is like a dark inversion of The Wizard of Oz, where Dorothy never makes it over the rainbow.
It reminded me of a newspaper article by George Orwell about a true crime case where a tea girl who dreamed of being a gangster's moll, like she'd seen in the movies, eloped with an American GI who indulged her fantasies and took her on a killing spree. Dreams and fantasies of glamour have made people do crazy things since cinema was born. There's a fantastic dance sequence in Pearl where we see inside her head before her dreams are snatched away, a scene that for all its period costumery and scenery could have been plucked straight from the audition rounds of The X Factor or American Idol. Pearl the character is an extreme version of every sad, lost, desperate soul singing their heart out for the cruel dismissal of the judges, forced to realise that they're actually not "special" enough for an industry that treats them like disposable props.
She just wants to be loved by you, by nobody else but you. But she might not be a very good person…