Movies
Casted_Runes
Mr Karswell

5
Joined 4th Oct 2021
Forum Posts: 297
---
I just saw Fall and it was okay. Provided the bare minimum of vertiginous thrills that made it worth seeing for free on a Thursday evening. Of the survival horror genre my favourite is The Descent, a girls-gone-spelunking movie that ends with a beautiful, ruthlessly cynical shot and features a story that's psychologically convincing, if very dark.
Fall is... not that movie. It's about a couple of adrenaline junkies who decide to scale a 2,000 ft broadcast tower after the husband of one of them dies as they're scaling a mountain, but it all goes Pete Tong and they're stuck up top. I struggle to sympathise all that much with adrenaline junkies just because it costs people time and money to save them when things go wrong, as they inevitably always do. That's another reason why The Descent works so well, though. The basic plot template is the same: bereaved woman goes back to her extreme sports hobby, something goes wrong, and she has to locate a primal aspect of herself to survive, potentially at the cost of her humanity.
But The Descent did it so much better in just about every way, starting with the fact that the bereavement felt like something that could happen to anyone, and from there established its heroine as a believable person whose decision to go back to the caves is understandable. We might not make it ourselves, but we understand why she might.
I think the main problem that I had with Fall is that it didn't seem to be aware that its two protagonists are stupid, awful people, even though they're clearly presented as the type of cretins who see "DANGER OF IMMINENT DEATH" signs as a challenge. I don't mind it when protagonists are unlikeable, in fact I tend to prefer it when they're either reckless or morally questionable. Fall, however, presents them pretty uncomplicatedly as people whose side we're supposed to be on. It doesn't help that the character writing is on the level of a bad TV movie and neither of the actresses look or sound like who they're supposed to be.
One thing that made me laugh is how unintentionally classist the film is. These two idiots show up at a diner and seem aggrieved when the waitress doesn't provide an outlet for them to charge their phones, before one of them uses the "life hack" of stealing electricity from a light fitting. Later, two characters in a battered motorhome essentially commit murder when they notice their plight. Who these guys are and why they're having a barbecue in the desert isn't explained. (One of the women speculates that they're having a dirty weekend, because bum sex isn't as fun unless it includes BBQ and vultures, I guess.) But you know that they're villainous because they wear tank tops and bandanas, those bastards.
It's hard to enumerate the ridiculous decisions these women make, there are that many. They almost die before even getting to the tower because one of them's too busy shooting a YouTube video to focus on driving. And they're only there because the driver felt that the best thing for a grieving widow whose husband died in a climbing accident, and who's been abusing alcohol and drugs and clearly has PTSD, is to climb a rickety broadcast tower in the middle of Bumfuck, Nowhere without telling anyone where she's going, before hanging by her fingertips from the top of said tower for a YouTube video.
In one of several examples of Chekhov's gun, the widow chases some vultures away from a near-dead fawn, calling them "pricks". Well, the vultures are just responding to their pre-programmed natures and don't have the gift of higher thinking. What's your excuse, you stupid bitch?
Still, the movie made my toes tingle with its evocation of height, and I got a good laugh out of the closing narration about life needing to be lived. Maybe try line dancing before free climbing, though. You're unlikely to have to feed on carrion and desecrate your best friend's corpse doing the dosey doe.
Casted_Runes
Mr Karswell

5
Joined 4th Oct 2021
Forum Posts: 297
---
I absolutely LOVED Bodies Bodies Bodies. But then I also love gas station sandwiches and toxic men, so maybe don't take my tastes too seriously. I can't honestly say that it's high art, but it's about as funny and interesting as a slasher film can be in 2022 AD, and has one of the funniest and most cynical twist endings to a murder mystery that I've seen in a while. Even Agatha Christie never used this one. (I don't think.)
The plot is that a bunch of coked-up, overprivileged, "Gen Z" idiots - the sort of kids raised on buzzwords more than ideas - meet up at a remote property on a dark-and-stormy-night to drink, do drugs, and play "bodies bodies bodies" (basically a souped-up blind man's buff or murder-in-the-dark), when a mystery slasher starts making the bodies real. Only these kids are so #toxic that the maniac doesn't need to do all that much once the fear and paranoia sets in.
The film uses the same ploy as Knives Out by positioning a young immigrant woman - the lover of one of the girls - as essentially its protagonist. I would say that she's the most likeable character, but it would be more accurate to say "only", although her girlfriend is more self-aware than the others. Bodies Bodies Bodies is a good illustration of the storytelling principle that it's okay for all your characters to be stupid and unlikeable, so long as you're aware of that. I get the feeling that most other films would have gone a more cliched route and given the characters more standard personalities. The slasher archetypes are there: the dumb jock, the weasel, the good girl, the cool girl, the bitch, the "slut"; but they're handled so much more subtly perhaps just because the cast are all rancid.
I'm willing to give thrillers a fair amount of leeway as to believability anyhow, but Bodies Bodies Bodies is impressive in how it answers typical audience questions like "why don't they call the police?" and "why are they making bad decisions?" The answer to the first question is explained by the storm, location, and the fact that the house is filled with drugs. The second is explained by the fact that they're stupid, selfish addicts from a closed bubble of wealth and privilege. The social satire isn't precisely intellectual, but by gosh is it scalding. These are kids who define themselves by what they perceive as their disadvantages in life, one girl haughtily declaring that she can't be upper-middle class because her parents teach at a PUBLIC university. They remind me of an anecdote that Kelly Osbourne once told about growing up in Beverly Hills: her teenage friend had a heroin addiction, and her mother was more upset about her using one of her antique spoons to cook it.
And then there's that twist... it's the sort of twist that wouldn't work in 9/10 movies, and it's likely to still be hated by a large chunk of the audience. I loved and wanted to applaud it, though, because it's totally of a piece with what came before, makes logical sense, and is the cherry on top of these awful scumbags' well-earned graves. If ever an anti-drugs PSA could be entertaining, Bodies Bodies Bodies is that PSA.
Strangeways_Rob

11
Joined 31st Mar 2020
Forum Posts: 454
---
Your movie reviews are wasted in here mate! Just saying.
Casted_Runes
Mr Karswell

5
Joined 4th Oct 2021
Forum Posts: 297
---
Thanks!

I don't have an outlet for them really, but I have also been putting them on Letterboxed.
Casted_Runes
Mr Karswell

5
Joined 4th Oct 2021
Forum Posts: 297
---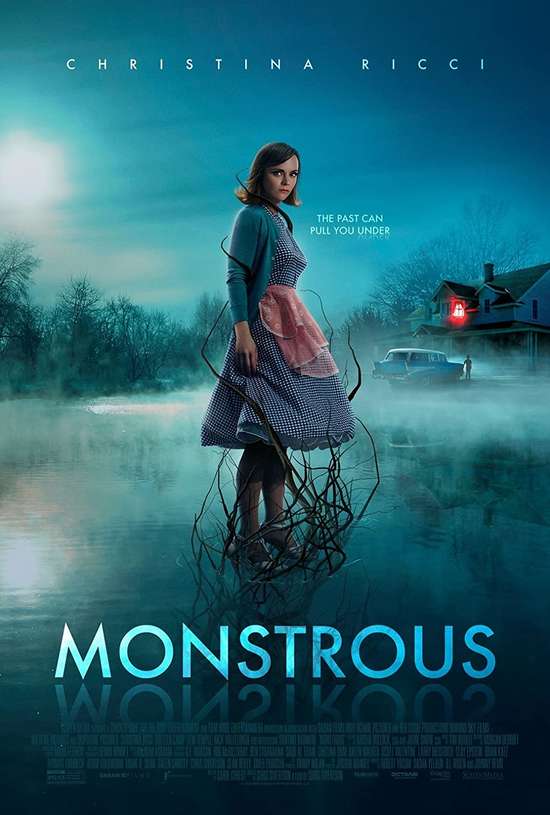 Monstrous is a typical streaming movie: small budget, reduced locations, inane plotting, televisual feel, and essentially a lot of genre tropes done on the cheap more than an actual story. These things don't make it bad, it just is what it is: a product cranked out for a streaming service.
Christina Ricci plays a '50s housewife who one day ups and leaves for a new life with her young son, leaving her key under the doormat and renting a spooky old house in the middle of nowhere. But then a mysterious presence from the lake opposite starts calling to her son, who refers to it as "the pretty lady".
It's clear pretty early on that this is going to be a psychological mystery where the nature of the reality itself is questionable. Allusions are made to an ex-husband who did something terrible, as well as a mother and doctor concerned for the woman's welfare. For me a giveaway was that somehow Ricci is managing to afford this beautiful farmhouse, Chevrolet maintenance, and a wardrobe of beautiful period outfits on a typist's wage.
Ricci's always great, and to its credit the film takes advantage of her wide expressive eyes and face, including in a dream sequence where she imagines herself in black-and-white being restrained by creatures from the black lagoon, while the pretty lady ministers kindly to her. Ricci gives the movie what depth it has, playing the role with genuine vulnerability where a lesser actress would have either made a parody of it or leaned into Scream Queen hysterics. Ricci at times has a doomed and tragic quality reminiscent of Tennessee Williams heroines. You can picture her saying "I have always depended on the kindness of strangers..."
The child acting from the actor playing her son is... less great. Good child performances probably depend on sympathetic directors willing to spend a lot of time coaching a young actor. The boy here is more wooden than Pinocchio, but that's not his fault, and at least you don't catch him giggling during serious scenes. (Or at least I didn't.)
Aside from Ricci's performance, what else is good largely comes from the period detail. The dresses and decor and machinery look authentic enough. The supernatural threat, while hokey, is rendered with a baseline of quality.
The problem is that too much of the "plot" comes down to the typical made-for-streaming horror guff, a woman wandering around a house wondering what that noise is. For this reason the screenplay feels like it never got past a first draft. It's clearly a project where the twist came first and then the script was reverse engineered from it, making much of the story little more than passagework.
It's all bare bones at a writing level, lurching from trope to trope (there's a mean old landlady who thinks that Ricci's on drugs, dream sequences, and even a children's birthday party to which no-one shows up, leaving the poor child sat forlornly on the porch steps). This all gives the film the unfortunate impression of being more a Goosebumps episode than a horror film for adults. But if you're looking for something that you don't have to pay much attention to, or want to play a game of "guess the twist" with friends, Monstrous is Adequate.
Casted_Runes
Mr Karswell

5
Joined 4th Oct 2021
Forum Posts: 297
---
I just saw Ticket to Paradise, the first romantic comedy that I've seen in a cinema since I don't know when, and it was a generic assemblage of tropes with jokes that must come included with screenplay guides by now. This type of film gets by on the idea that it's just the light, escapist fun that everyone needs "right now", and what, do you hate fun? Hate people laughing and smiling and having a good time? Being happy? We've just been through 4 years of COVID and now you're sneering at us just trying to enjoy this cute little Julia Roberts movie? You think you're better than me and mine, buddy?!
Movies like Ticket to Paradise don't even really need to capitalise on this angle as a large section of the paying public, and sometimes even the critics, will do it on their behalf. Bizarrely, I've seen critics compare this film to classic screwball comedies of the '40s and '50s, like Bringing Up Baby and Some Like It Hot. But Some Like It Hot, for example, had a clockwork plot which doesn't waste a single second, top-tier musical interludes, and razor sharp comedic writing. The plot and characters are completely artificial, but that's the point: it's a screwball machine packed solid with bells and whistles. One minute Tony Curtis is schmoozing Marilyn Monroe on a purloined yacht, the next they might be fleeing gangsters with tommy guns. And given that movies like Baby and Hot came to people in the wake of the worst global conflict in history, providing light relief in a world still very much scarred by war, grading Ticket to Paradise on a curve because of COVID rings hollow to me.
The premise is that a divorced couple played by George Clooney and Julia Roberts fly to Bali to "Trojan horse" their daughter's upcoming nuptials, believing that she's throwing her life away. (Oddly, no overt connection is made between the Trojan horse plan and the daughter's friend's box of Trojan condoms, despite both being recurring elements. Perhaps because despite its supposed zaniness, the movie is too timid and frightened to offend Middle American grannies.)
But it's no go because the daughter and her Bali beau have inextricably bound themselves together through their mutual passion for not having a personality. Well, the boy kind of has a personality, in the sense that this is the type of Hollywood movie where "not white" counts as having a personality.
What was odd about the film is how little comedic business or even just plotting there is. Characters sort of wander around waiting for the filmmakers to throw a snake or a rainstorm at them. The jokes are more in the way of stock material and there was a smattering of laughter in the screening I went to, but seemingly more in recognition of well-worn themes than surprise. (He said he tied the boat but now it's drifting away, etc.) My biggest laugh was a rather mean-spirited one probably unintended by the film: Julia Roberts is headbutted at one point and afterwards George Clooney inspects her nose for her, only for her nose to look like the rhinoplastied piece of surgical engineering that it always was.
The rest of the narrative is people talking in long, languid scenes about their pasts, presents, and futures (curiously without ever saying anything of substance), before the laborious business of pairing everyone off in the drawn-out foregone conclusion. (Always my least favourite part of a rom-com. Just roll the credits on the right people kissing.)
Roberts and Clooney are fine, I guess. I didn't hate their characters, but he was an ass and she was a bitch. Her current boyfriend in the film is for some reason written as an obsequious cuckold. I thought he was the gay best friend at first, so completely emasculated is he by the script. This is I guess supposed to be amusing, but it just makes Roberts' character seem like a narcissist who enjoys cowing younger men.
Casted_Runes
Mr Karswell

5
Joined 4th Oct 2021
Forum Posts: 297
---
Halloween Ends is the biggest piece of shit that I've seen in a cinema this year, at least. Well, that might be hyperbole, but this film does not inspire generosity of assessment.
Here's the thing. I like slasher films, but I know what they are. All I expect is action, gore, and camp humour. I knew before going in that Halloween Ends was never going to be anything like as good as the '70s original, which is a perfect horror film. I've seen all the sequels, I didn't expect high quality. And although I didn't care for Halloween Kills, it was still a somewhat pacy and amusing bit of nonsense, with some dark humour (Michael testing different knives on a fresh corpse is still my favourite gag from the new trilogy) and gory kills. It was trash, but just about serviceable if you're a fanboy.
Halloween Ends, by contrast? It's one of the dullest, most enervated, maudlin, and mawkish crapfests this side of an exploding toilet block. At BEST, it's a creative dead zone, an extended epilogue to Halloween Kills whose useful content could have been trimmed to twenty minutes and tacked on to the end of that film.
At worst, it has one of the most embarrassingly poor scripts in horror cinema, at least at this level. Character motivations don't make sense from scene to scene, sometimes moment to moment. Midway through a conversation sometimes, established dynamics between characters will change, seemingly at random, as if the narrative was decided by throwing darts at story ideas on a cork-board. Scenes come and go without rhyme or reason. Half of them could probably have been cut without affecting coherence. The dialogue feels lifted from a third-rate YA soap opera, although that's probably offensive to that genre.
The story is that on Halloween night a babysitter, Corey, accidentally kills his charge and is ostracised by the community. Some bullies almost kill him, but then Michael Myers draws him into his lair and uses his life force to gain strength. Meanwhile, Laurie Strode lives with her granddaughter, whose mother was killed in the last movie. The granddaughter falls in love with Corey, but as characters are fond of yelling at each other, he's on a dark path.
This is all fine, and a less pretentious slasher film would have knocked it out in 90 minutes, setting up Corey's story arc in 20 to 30. For some reason, though, Halloween Ends stretches it out to more than an hour. After a while I just sort of gave up on the unbearably inane, fatuous plotting - Laurie awkwardly flirting with the town sheriff like they're both six! The granddaughter looking moony-eyed at Corey! Corey... existing! Laurie writing a terrible book about her experiences! - and started waiting for the mayhem.
Except it never really happens. There are kills, gory ones, and they're the only thing that stop the film from being a half-star job, but at no point do we get a sense of anyone fighting for survival. Instead we get sixth-form level pseudo-philosophising as if the filmmakers think that they're better than their genre. They're not. Unless you're still impressed by that Nietzsche quote that's so ubiquitous it's on Batman tees.
Strangeways_Rob

11
Joined 31st Mar 2020
Forum Posts: 454
---
Jamie Lee Curtis bears an uncanny resemblance to Ulrika Jonsson on that poster. Mmm. Pretty-Swedish-weather-girl-turns-bad may get the crowds in. More scathing to your scythe in another very accessible and honest review.
Casted_Runes
Mr Karswell

5
Joined 4th Oct 2021
Forum Posts: 297
---
Jamie Lee Curtis is pretty hot. Has that badass grandma vibe going on.
Anonymous
---
@Runes - literally everybody I've spoken to doesn't have a good word to say about Halloween Ends. Personally, I think they should just let some franchises die, and this is one of them.

They hyped this one up so much, the general rule of thumb is if the media drive is high, it's because they're trying to generate foot fall to cover the fact that the film is all filler.

Yeah. Wasn't a fan.
Casted_Runes
Mr Karswell

5
Joined 4th Oct 2021
Forum Posts: 297
---
Northern_Soul said:
@Runes - literally everybody I've spoken to doesn't have a good word to say about Halloween Ends. Personally, I think they should just let some franchises die, and this is one of them.

They hyped this one up so much, the general rule of thumb is if the media drive is high, it's because they're trying to generate foot fall to cover the fact that the film is all filler.

Yeah. Wasn't a fan.
It was definitely a film that was all filler.
Casted_Runes
Mr Karswell

5
Joined 4th Oct 2021
Forum Posts: 297
---
I just saw Smile and it was okay. It's got an interesting prologue, climax, and metaphorical underpinning as to the effects of psychological trauma and heredity. The midsection, however, is a mostly tedious rattle-and-scream toy with TV-movie-esque plotting. It's clearly a film where the makers had an intriguing idea, but at some point the studio stepped in and said:
"Okay, that's all fine and whatever, but she needs to kill the cat. (Don't mind "why". Haven't you heard the saying that you can't show a cute animal in the first act without killing it by the third? I think it's called Schrodinger's gun, I don't know.) And you'll need a jump scare at least every 5 to 6 minutes or else the dumb teenagers in the audience are going to say it's not scary enough. And what's this about her confronting her trauma at the end? No. This is a HORROR film. It needs to end with a bait-and-switch and then something spooky happening so that the audience leaves tweeting about it."
Unfortunately, the tropes render the story pretty nonsensical at points. Characters keep talking about the protagonist getting help "before something bad happens" several scenes after - to their minds - she killed the cat and traumatised a roomful of children with its corpse. Do middle-class white women really get that much leeway? "Well, she has started torturing small animals and smacking kids about... But give her some Uggs and a pumpkin spice latte and she'll calm right down."
The story is that a shrink played by Sosie Bacon (Kevin's daughter) witnesses a patient commit suicide in front of her, her face contorted into a grotesque smile. A demonic entity is then passed to Sosie, and from there the film unfolds much like any other in the "memetic horror" subgenre, just with smiles as opposed to a videotape, children's game, or whatever the meme happens to be.
The directing is really strong at times, with a good use of colour, POV, bird's eye, and flipped shots. The camera zooms into windows like a Hitchcock film and the psychiatric ward makes effective use of calming pastels ("spooky" mental hospitals in the movies are a bugbear of mine).
None of it was scary to me because, I don't know, at this point in my life I need the fear to be coming from atmosphere and characterisation as opposed to memes. Ironically, the smiles would have been a lot creepier if they were just ordinary smiles. Like, she looks normal and happy, but she's STABBING HERSELF OMG BABS STOP. That's pretty spooky. But when the actors in this film pull their silly faces they just look like kids doing a TikTok challenge.
And as I should really have expected, the plot ends up nowhere, with no reason as to why anything happened. If it had ended on the shot of Sosie Bacon walking away from a burning house it would have made sense as a psychological piece. But again, you can hear that studio executive... "So, what, that's it? Where's the twist? Where's the meme? You've gotta end on the meme, guys!"
Here's a question: why the fun did the BBFC give this film an 18 but Men, the Alex Garland shocker, a 15? Smile has "strong bloody violence", but its violence is of a generic CGI sort. A slashed throat, blood sprays, a broken arm on a fantasy creature... Men, on the other hand, has themes of sexual violence, domestic abuse, a shot of a suicide impaled on a spiked fence with ankles broken and guts spilled, a drawn-out "birthing" scene with faux-vaginas and ripping sounds... Maybe the classifiers were spooked by the scary smileys.
Casted_Runes
Mr Karswell

5
Joined 4th Oct 2021
Forum Posts: 297
---
The new Hellraiser was pretty good. It adds a story and characters with psychological motivations where the original was a lot more arbitrary, the narrative just an excuse for the visuals, atmosphere, and world-building. Oddly, though, I'm not convinced that that's a good thing.
The new film is basically a version of The Monkey's Paw, about a magical device that grants wishes with horrifying downsides. A drug addict and her boyfriend steal the godforsaken puzzle box and solve it, unleashing the Cenobites, who for this retelling require blood sacrifices via a blade affixed to the box. The addict's brother accidentally jabs himself with it, vanishes, and the rest of the film involves the other characters trying to find him.
There's a real plot with twists and turns on display here. I liked some of the settings, including a mansion set out like a giant puzzle box, and the detail that went into a character who initially seeks out the box so as to fulfil his own sadistic power fantasies, a sort of Marquis de Sade/Jeffrey Epstein who gets his just desserts. The epilogue, involving the creation of a new demonic "angel", was also engaging, as was some of the added lore around the cult of the Cenobites.
But it ultimately just wasn't as fun or impactful as the original film. The original Hellraiser was a LOT messier, with a plot and motivations that can charitably be described as arbitrary. (That one cast the de Sade figure as a sexy bad boy who's shagging his brother's wife and convinces her and her '80s perm to pick up men in bars so he can make himself new flesh to graft onto his exposed muscles. Don't ask.)
But what it had in spades, and which I really missed from this one, was a gonzo creativity. It was gritty and grotty and gross, and anchored by a pitch perfect performance from Doug Bradley, who brought to the role a camp theatricality that gave his "Pinhead" the feeling of an actual personality as opposed to just a plot device or neat visuals. He was always laughing maniacally or lustily belting out statements like "No tears, please! They're a waste of good suffering!" The film had a Hammer Horror, Grand Guignol, carnivalesque vibe that was of a piece with the tone, which was filled with maggots, bloody gobbets of flesh, draughty and echoing tunnels leading god knows where, chittering monstrosities, and so on.
By contrast, the female Pinhead is more just a representation of the lore than a character in her own right. The actress gives a good sturdy performance, but it's more an avatar of evil than a personality. The Cenobites in general look too slick here, like plastic and spandex confections as opposed to sadomasochistic humanoids.
The visuals can be really impressive, though, and it's well worth a watch. It's a thousand times better than any of the sequels post Hellbound, but then so are most things.
Kou_Indigo
Kara L. Pythiana-Ashton
65
Joined 15th Sep 2011
Forum Posts: 2687
---
Me, I finally got the chance to see the live action Disney's Aladdin movie and I loved it a lot I have to say! I was going into it expecting that it was just going to end up being a disappointment, or worse still a bit of a slap in the face to the older animated movie... but not only was it not a slap in the face at all, it was delightful and a refreshingly different sort of take on the classic story. Jaffar actually seemed a lot eviler in this live action film simply because he was not ugly this time around but handsome and yet despite that he was cruel, wicked, and very toxically masculine and very narrow-minded in his view of things, as well as arrogant, ambitious in all the wrong ways... and over all a truly, truly terrible human being. He was, just like Aladdin, a thief who rose from that to the highest position in the land short of being ruler over it all... and yet, he kept wanting more and more, because he feared having nothing once again. And that was the only part of him I actually felt sorry for... that he once had it so bad that it drove him pretty much insane with the desire to never again be so destitute and hopeless. He was what Aladdin might have become if the hero had a mean streak to him. But honestly, when Jaffar told Jasmine to be silent I wanted to choke the life out of Jaffar for saying that to her and treating her that way... and I had tears in my eyes when she sang that song about not being silenced. I thought to myself: "Gods! I am so very much more like her than I ever even realized." because just like her, I had to struggle a lot in life to be heard, to find my voice, and to not let anyone take my voice from me. She was always the Disney Princess that I most identified with, and this really hammered it home for me even more than the animated version did. She was in this movie beautiful, elegant, empowered and magnificent! And all of it in just the right sort of ways that really resonated with me perfectly. Aladdin was very fun in this movie, and I could honestly not help but like him! I wanted to slap him silly a bit when he became Prince Ali and almost went the way of Jaffar and turned into a bit of a jerk for a bit, in the middle of the story, but he snapped out of it and ended up the hero that he needed to be and always was (but just lacked the confidence and opportunity to fully realize his potential). But what I liked a LOT in this version was how Jasmine was a heroine in equal measure in it, even more so than she was previously, which made it seem at the end like she and Aladdin made for a perfect couple. I adored the portrayal of the genie in it, and yes it was very different from Robin Williams' take on it in the animated movie... but Will Smith's take on the genie was equally good in a different sort of way. One thing I did like better in the new live action movie is how the genie got to appear human and act as Aladdin's advisor and of course his friend during the part where Aladdin was posing as Prince Ali. To me, that aspect of the story felt natural and more realistic than what they had happen in the animated version. The humor of the genie was still there in full force, and the only thing that really differed about it was how that humor was delivered and the style of some of the jokes. I loved it though! And was happy at the end to see that the genie was granted not only his freedom but the chance to have a good life with the woman he ended up falling in love with. I also liked how the whole of the story was framed as a tale the genie was telling unto his children... I found that very heartwarming and fun. It was very evocative of the fairy tale elements of the original Arabian Nights stories. The landscapes looked amazing too, and some parts of the movie reminded me a bit of the old Prince of Persia video games. This movie, truly, captured the essence of Prince of Persia way, way better than the actual Prince of Persia movie that they made years ago. I loved everything about the live action Aladdin! The costumes, the singing, the dance number they did and how crazy it ended up going down... the whole story of course, and the ominous take on the Cave of Wonders this time around. I also loved how at the end Jasmine's father was ready to just say "To heck with tradition!" and let everyone do as their hearts willed them to. That was a great message to include, and an important one in this world. Follow your heart, always! And sometimes, the law can be wrong and in need of changing. One thing I truly did not expect though, was that I would find Jasmine's handmaiden to be so incredibly cute, bubbly, sweet and to me quite attractive. Honestly, I wanted to kiss her... big time... because she was just in so many ways totally my kind of girl. If I were Jasmine, I'd have been having a lesbian romance with her and we'd have been doing more than just lounging around in bed together talking. Truly... I did not go into this movie expecting I was even going to like the handmaiden character, but oh wow was I wrong about that! The genie chose well, when he chose her to be his wife. I liked the whole Prince Ali parade sequence a lot more in this movie too... it was less ridiculous, yet it still had a lot of the pompous, over the top ridiculousness that the animated version had to that part. All in all, this movie is now my favorite take on the story of Aladdin because as much I do love the animated film that started it all... this had so many ideas that elevated the story for me and took it into some interesting new directions that just made more sense. Like freeing the genie at the end, for instance... that being the best of all the new changes they made to the story. It was fun movie to watch, and a great movie to feel cheerful when watching! Though I cried a little bit, during the part when Aladdin and Jasmine were flying on the flying carpet and singing the iconic "whole new world" song. I was so caught up in the emotions of that moment, and really transposing myself into the moment as Jasmine herself in my imagination... with my partner Zoey as my Aladdin... that I wanted to burst out singing along with it and say: "Yes! Show me wonders, my love!" because yes, I am just that much of a total romantic when I watch movies that have such sweetly romantic parts like this in them. I have pretty much always been a huge fan of the Arabian Nights style of movies and still love all of the old Sinbad films, and the Thief of Baghdad films, and that old movie Arabian Adventure... which itself was in many ways the template for a LOT of what ended up in Disney's Aladdin to begin with. Even that 1001 Arabian Nights mini-series they did on the Syfy channel many, many years ago I enjoyed! And I can honestly say that the live action Aladdin brought back for me a lot of the same feeling that those classic movies filled me with, that sense of a grand adventure set in a land filled with magic and all kinds of fabulous things. It felt almost nostalgic to watch for that reason... and is definitely a movie I would watch again. I think the critics were much too hard on it, and a lot of people were upset that it was not precisely the same as the animated version. Myself, I was happy in the end that it was not! Not because of anything wrong with the animated version (which was flawless) but because for me it did a lot that was right and which I enjoyed it all the more for.