The Gathering Place ( Modalities of Divination )
Ahavati
114
Joined 11th Apr 2015
Forum Posts: 12584
---
✨Aspecting the Cosmos: Sun, Sep 17, 2023:
Late morning, the
Libran Moon inconjunct Uranus Rx in Taurus
. This aspect will heighten our emotions and intuition. Pay close attention to what we are sensing. With the Moon in Libra semisquare Mercury right on the above aspect's heels, communicating our feelings or emotions can be tricky. Watch for red flags from others and our own intuition if we feel triggered. Belaying a conversation might be best.
Following the
Libran Moon will sextile Black Moon Lilith in Leo
. Time to withdraw into the shadows to face something we may have previously avoided. Clearing the air within ourselves through integration will enable us to clear the air with others.
Tonight, the
Libran Moon squares Pluto Rx in Capricorn
. This can appear like a harsh aspect; however, truly presents the biggest opportunity that ties in with the previous aspect. Pluto is the God of the Underworld and therefore represents depth. With wisdom we can build steppingstones from the underworld to the surface.
I didn't say it would be easy. I said it would be possible to leave our imprint for future generations.
Image: Cueva de las Manos ( Cave of Hands ), Patagonia, Argentina
Degrees, Aspects, Time:
Moon: 22°LIB54'
Uranus Rx: 11°TAU55'
Aspect: Inconjunct
Time: 11:09 AM EDT
Moon: 23°LIB15'
Mercury: 08°VIR15'
Aspect: s-Semisquare
Time: 11:48 AM EDT
Moon: 23°LIB28'
Black Moon Lilith Rx: 23°LEO28'
Aspect: Sextile
Time: 12:14 PM
Moon: 28°LIB00'
Pluto Rx: 28°CAP00'
Aspect: Square
Time: 9:16 PM
#inspiritualservice #astrology #astrologer #aspects
Ahavati
114
Joined 11th Apr 2015
Forum Posts: 12584
---
Weekly Oracle Card: September 17 - 23, 2023
45. Speak your truth with passion
You have learned many lessons thus far on your journey, and it's an interesting moment when you sense that you know something more than you thought you did. When that sense of awakening springs from deep inside you, it is time to share it with others.
Guardian spirits are telling you to believe in yourself and speak out, trusting that you are connected to the higher powers of the universe. There is only one Truth and when you are truly connected to Source, that is what you will speak. Remember, when you share your experience with others, you will learn more about your true purpose too.
Deck: Healing Spirits by Gordon Smith
Artwork: Naomi Walker
#inspiritualservice #oracle #oraclereading #oraclemessage #oraclecard #oracledeck #weeklyoracle
Ahavati
114
Joined 11th Apr 2015
Forum Posts: 12584
---
I did not sleep very well last night. One of my closest friend's husband took his own life yesterday. She was leading up a retreat in Hawaii and found him late. Suicide is such a difficult issue to contend with, as those closest have a propensity for self-blame. "What could I have done differently?" "Why didn't I see this coming?" and so on. And so forth.

And of course, one of the initial reactions from one of her friends was, "That's not how we're supposed to go."

But who's to say that with certainty. What if that was his purpose this lifetime? What if she and he together chose this experience? One cannot taut that we have a choice except for suicide. If our life is our own, then it is our choice whether to end it or not.

I don't know the intent of his heart. Perhaps he didn't want to be a burden. Perhaps he knew something we all didn't. A million questions flood and I bite my tongue and the insensitive comments about hell and suicide. The lines from 'Cloud Atlas' come to mind:

"People pontificate, "Suicide is selfishness." Career churchmen like Pater go a step further and call in a cowardly assault on the living. Oafs argue this specious line for varying reason: to evade fingers of blame, to impress one's audience with one's mental fiber, to vent anger, or just because one lacks the necessary suffering to sympathize. Cowardice is nothing to do with it - suicide takes considerable courage. Japanese have the right idea. No, what's selfish is to demand another to endure an intolerable existence, just to spare families, friends, and enemies a bit of soul-searching."

The Japanese do have the right idea: to die with dignity and honor. And maybe that's what her husband wanted.
robert43041
Viking

40
Joined 30th July 2020
Forum Posts: 830
---
Yes, many think it's an easy way out, no problem to jump off the building. But it takes a form of courage to go that way.
Ahavati
114
Joined 11th Apr 2015
Forum Posts: 12584
---
Aspecting the Cosmos, Monday, Sep 18, 2023:
Normally, when the Moon sextiles Mercury, it's a prime time for us to socially tap into the energy of others intuitively, providing an ease of conversational exchange.
However, when the Moon is in her fall, as she is here in Scorpio, we could experience difficulty expressing our emotions. We may feel awkward, unsure, and a bit insecure.
Mercury is in his dignity in Virgo; however, he is also in his two-week post-shade retrograde period. Expression can be slower to come to us at this time. It's a wonderful day to take a short trip, maybe up to the mountains, as Mercury also sees over the safety of travelers. If you're not up for a road trip, then a healing session or class is perfect, as Mercury is also the patron of medicine.
If we find ourselves uncertain of words, then actions are our best bet, including nature is preferred. Don't forget to take a notebook to capture inspired words.
Degree, Aspect, Time:
Moon: 08°SCO44'
Mercury: 08°VIR44'
Aspect: Sextile
Time: 5:52 PM EDT
Image: MTA Mercury by John Woodrow Kelley
#inspiritualservice #astrology #astrologer #Mercury #Scorpio #energy #dailyenergy
Ahavati
114
Joined 11th Apr 2015
Forum Posts: 12584
---
Tonight, September 18: Venus at Greatest Brightness
Perhaps out of jealousy at the awed state in which our Moon left the onlookers last month, or perhaps out of responsibility to razzle-dazzle eager skywatchers with, Venus will begin to shine extra bright during this time.
This is primarily because the 'morning star' has ventured very close to our planet, and as it reflects maximum of the Sun's light back onto us, it will appear super illuminated in the skies.
Additionally, did you know that Venus has phases much like our Moon? Adds more credence to our jealousy theory, we think.
Image: Dale
Ref: Space Science
#inspiritualservice #astronomy #cosmology #skygazing #Venus #venus #morningstar
Ahavati
114
Joined 11th Apr 2015
Forum Posts: 12584
---
. . .
Ahavati
114
Joined 11th Apr 2015
Forum Posts: 12584
---
Aspecting the Cosmos: Tue, Sept 19, 2023:
The sky-gazing aspect of the
Sun opposite Neptune
is fantastic, as the planet will be fully illuminated. The energy aspect is quite different and requires us to rely deeply on our intuition to navigate inner doubt, confusion, and outer conflicts and/or misunderstandings with others. Although it perfects early AM, EDT, the energy will still be palpable all day.
Nipping at the heels of the above is the
Moon square Venus,
producing conflicting creative energy offset with sexual tension, particularly ensuing a blowup. Relationships can be rocky, so read the energy. Heed your intuition if something or one seems too good to be true. It/They most likely are.
This evening we should feel some relief when the
Moon trines Uranus
. Our intuition flows in harmony with Uranus' non-conformity, creating luck and an open mind to potential ideas. Intuition is peaked to the max with this aspect.
Image: Intuition by Winy Jacobs
Degrees, Aspects, Time:
Sun: 26°VIR16'
Neptune: 25°PIS16'
Aspect: Opposition
Time: 7:17 AM EDT
Moon: 16°SCO22'
Venus: 16°LEO22'
Aspect: Square
Time: 8:29 AM EDT
Moon: 22°SCO52'
Uranus: 22°TAU52'
Aspect: Trine
Time: 8:46 PM EDT
#astrology #astrologer #inspiritualservice #horoscope #zodiac #astrologynews #astrologypost
Ahavati
114
Joined 11th Apr 2015
Forum Posts: 12584
---
I don't know if it's because I'm a Pluto-ruled Scorpio or just have a morbid obsession with digging through something ( which, is also associated with Plutonian ruled individuals ) to find a hidden truth or understanding I overlooked.

Today I looked through photos of my friend's husband's eyes. I wasn't close to him because there was something about him that seemed distanced. He was always there, but he was also somewhere else.

His wife is a very social person ( Sag Sun/Gem Moon ), but Skip wasn't. And I froze when I took the time to study his natal chart after his wife sent me a copy of his birth certificate. She, too, is looking for answers. But there was nothing that could be done by her. Only him.

Skips' Sun was conjunct Saturn, the Teacher and Lord of Karma. His Moon ( emotions ) was 07°36' in watery ( emotional ) Cancer in a perfected conjunction with Black Moon Lilith ( Shadow aspect ). But it didn't stop there—that conjunction opposed another conjunction between Vesta ( goddess guardian of home/hearth ) and Pallas ( goddess of wisdom/warfare ) in Capricorn ( ruled by Saturn ). Then there was the square to the Wounded Healer, Chiron and the goddess of love Venus, who, herself was in a conjunction with the goddess of discord Eris, who, herself was in a conjunction with Eros, the god of love.

Even his lucky planet Jupiter opposed the Lord of Karma. And Mars, the god of war, squared Pluto, harbinger of destruction and god of the underworld.

That's a LOT for a Sun in the 12th house ( a house of sorrow, limitations, frustrations, and self-undoing ), for a sensitive and emotional Cancer Moon in conjunction with a shadow side that his hardened shell could not allow shown for fear of appearing weak. And, if not armed with a map through this terrain of potentially volatile energy, especially when it comes to love and relationships, one can feel hopeless, and alone, and give in to the demons of thought that haunt the mind.

Which is what he did when he committed suicide.

Men, sharing is not a weakness; it's a strength. "Know thyself". If not for yourself, then for those who love you.

Please.

Knowing is half the battle.
Ahavati
114
Joined 11th Apr 2015
Forum Posts: 12584
---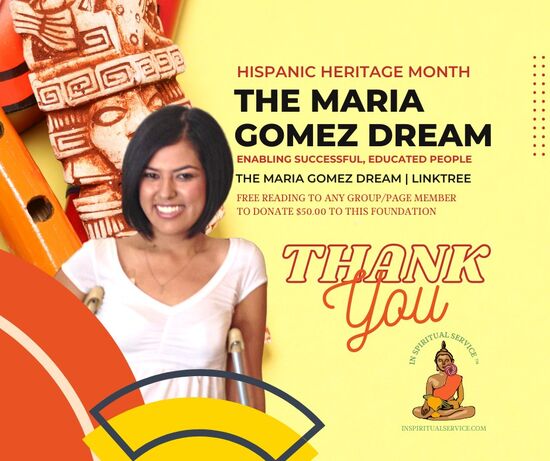 Hispanic Heritage Month - The Maria Gomez DREAM Foundation
Maria's story, continued:
( Full story here:
http://inspiritualservice.com/hispanic-latino-heritage
)
After successfully raising scholarship money to attain her dream of being the first college graduate in her family, Maria enrolled in ASU ( Arizona State University ) where she majored and graduated in accounting in 2010.
She then pursued her master's in accounting and graduated in 2014 while undergoing treatment for cancer.
Any member who has liked and followed my business page, and who donates $50 to The Maria Gomez Dream Foundation will receive a free three-card reading.
Please consider donating today to further assist young dreamer's dreams.
For more information and ways to donate, please visit:
https://foundation4education.app.neoncrm.com/forms/maria-gomez-dream-scholarship
or
https://www.facebook.com/themariagomezdream
Thank you for making dreams come true.
#inspiritualservice #HispanicHeritageMonth #HispanicHeritage #hispanic #hispanichistory #mariagomez #mariagomezdream #dreamer #dreamers #education #scholarships #ScholarshipAlertHispanic
Ahavati
114
Joined 11th Apr 2015
Forum Posts: 12584
---
Reminder for all star/planet gazers!: Neptune at Opposition tonight!
As majestic as the Sun may be, our central star can be a real party pooper when it comes to planet-spotting. Its vast illuminance tends to drown out other bodies in the sky, and they can, therefore, only be viewed when the Sun is far away.
This is especially true for distant bodies like Neptune, who will perch directly opposite the Sun tonight, making it a great time to view the gas planet. However, you will require specialized telescopes to view the blue dwarf.
Aspectually, this opposition between the Sun and Neptune is quite different and requires us to rely deeply on our intuition to navigate inner doubt, confusion, and outer conflicts and/or misunderstandings with others. Although it perfects early AM, EDT, the energy will still be palpable all day.
Image: Burst of Blue by the Mind Blossom
#inspiritualservice #astrology #astrologer #astronomy #cosmology #neptune #opposition #skygazing
Ahavati
114
Joined 11th Apr 2015
Forum Posts: 12584
---
Aspecting the Cosmos: Wed, Sep 20, 2023:
Early morning the Teacher and Lord of Karma, Saturn Rx in Pisces, will trine Ceres in Scorpio, goddess of harvest and abundance. Wonderful time to manifest. Listen intuitively to the teacher this morning. There's a valuable lesson to be learned.
A few hours later, the Sagittarius Moon is going to semisquare Mars in Libra. With Mars' weakened position in Libra, this aspect will assume the coloration of the sign. Our emotions seek balance but need to trust the universal process of justice.
Early afternoon the Moon in Sagittarius enters a square with Saturn Rx in Pisces. Emotional instability and struggles could mount. But through the fog is light. After all, every fairy tale has an enchanted forest we must walk through.
Late afternoon the Sagittarius Moon will sextile Pallas, the goddess of wisdom and war/artisan craft, in Cancer. This aspect could be our harvest if we've sown wisdom in navigating the former aspects. Don't forget to nurture ourselves.
Degrees, Time, Aspects:
Saturn Rx: 02°PIS05'
Ceres: 02°SCO05'
Aspect: Trine
Time: 10:12 AM
Moon: 00°SAG38'
Mars: 15°LIB38'
Aspect: Semisquare
Time: 11:17 AM
Moon: 02°SAG04'
Saturn: 02°PIS04'
Aspect: Square
Time: 1:57 PM
Moon: 03°SAG16'
Pallas: 03°LIB16'
Aspect: Sextile
Time: 4:10 PM
Image: A Golden Harvest
Source: Rehs
Ahavati
114
Joined 11th Apr 2015
Forum Posts: 12584
---
Sometimes viewing things from a different perspective helps.
Ahavati
114
Joined 11th Apr 2015
Forum Posts: 12584
---
Aspecting the Cosmos: Thu, Sep 21, 2003:
Leading us off is teacher Saturn trine Vesta. This aspect surrounds home and hearth, as Vesta is the patron of both. It provides the feeling of accomplishment before celebration and rest. It's the perfect energy to prepare for the harvest!
Shortly after, Lunar aspects form all through the evening. Moon trine Venus followed by Chiron and Juno. What a beautiful time to relish our home. Trines provide a respite from conflict and create accessible avenues to mend relationships, as Chiron is the wounded healer and Juno is the goddess of commitment and marriage.
It's time to let go of something that prevents our growth.
The only caveat is a Lunar semisquare with Ceres. It will prove to be an irritating aspect surrounding our growth and abundance. This is the thorn in the side, so we don't become too lazy amidst all the trines and fail to take advantage of the energy this evening.
Degrees, Aspect, Time:
Saturn Rx: 02PIS00'
Vesta: 02CAN00'
Aspect: Trine
Time: 6:03 PM EDT
Moon: 17ARI38'
Ceres: 02SCO38'
Aspect: Semisquare
Time: 6:22 PM
Moon: 17ARI39'
Venus: 17LEO39'
Aspect: Trine
Time: 6:25 PM
Moon: 18ARI32'
Chiron: 18ARI31'
Aspect: Trine
Time: 7:58 PM
Moon: 18ARI35'
Juno: 18LEO35'
Aspect: Trine
Time: 8:05 PM
Image: Women by Aimee Erickson