Poems of the Days - Free Speech
Anonymous
---
Check out more of her stuff. She's wonderful :)
Helen Hunt Jackson, 'Freedom'.
Jackson (1830-85) was a poet, a novelist, and an activist who campaigned on behalf of Native Americans. Here, Jackson takes up the abolitionist cause during the American Civil War:
What freeman knoweth freedom? Never he
Whose father's father through long lives have reigned
O'er kingdoms which mere heritage attained.
Though from his youth to age he roam as free
As winds, he dreams not freedom's ecstasy.
But he whose birth was in a nation chained
For centuries; where every breath was drained
From breasts of slaves which knew not there could be
Such thing as freedom, – he beholds the light
Burst, dazzling; though the glory blind his sight
He knows the joy. Fools laugh because he reels
And wields confusedly his infant will;
The wise man watching with a heart that feels
Says: 'Cure for freedom's harms is freedom still.'
Anonymous
---
This.
- Swirling Shadows -

The swirling shadows outside my window, with the fall of the current night...
Are they any less dark than those wings that unfold, unseen, form my being?
Would that I could see once more the brighter hue, once so filled with light,
But, too much have I endured long since, with scars cut in places unseeing!
I am not my pain, but neither do I hide from it like a craven coward might...
My blood has flowed in its' season, yet do I remain like a beacon gleaming.
What worlds, when turned to ash, have witnessed when I shed bitter tears?
Awaiting a dawn never risen, forced to embrace the night despite my fears.

Amid the treetops fly the ravens and crows who were of old my dark eyes...
But no longer wish I to look through their sight; as I have grown beyond it!
The moon calls to me from its' place upon the blackness of the ebony skies,
Where on high, there might be seen the places where the errant bat may flit.
Its' cries, reminding me that I am free, unbound to the chains of mortal lies,
Which ensnare so many heedless souls, with acts too horrid to ever remit.
I prefer to act as I do, with honestly however dark, my words full of truth!
The deceivers but fool themselves, divorcing from all that wisdom knew.

Can they imagine a love so profound, that it informs all a person's deeds...
Darkness and light in equal measure, perfectly balanced even as it sways!
Only to explode asunder with passionate fury, beyond all humanity sees...
The scales broken, for they cannot contain the power that only yet obeys,
A mind, that understands the knowledge that was lost, for which bleeds...
The very soul that is eternal, upon which the hungry vulture never preys.
We can be like gods and goddesses, if we choose, and settle for not less!
Yet, some sell themselves short, and know not the peril of their distress.

The swirling shadows of the void between the stars of the outer spaces...
Are not as cold as the heart of those who have lost the capacity for love!
For love have I raise up works of beauty to endure beyond man's places,
And done things of which I cannot speak, except under the moon above.
There are secrets held there, which are sung of only by the very graces...
Unknown to all they who think that peace is only in the form of a dove.
It comes, sometimes, with cost and how dearly have I in my time paid!
I, who stood in the deeper void and yet came hither, never being afraid.

Do not fear what lies outside the confines of your window, lest you fail...
To grasp the beauty that lies beyond the infinite, outside all your thought.
One needs not, a craft finely wrought, to in the highest of seas thus sail...
As some battles need not shed blood, to win once one has boldly fought.
It is enough that my will is strong, my heart set, my mind free of travail,
So that I may remember the noble truths, that of old I was wisely taught.
Transcendence comes in that hour, when you step outside your destiny!
Unchained at last, and able to soar with even dark wings, to high glory.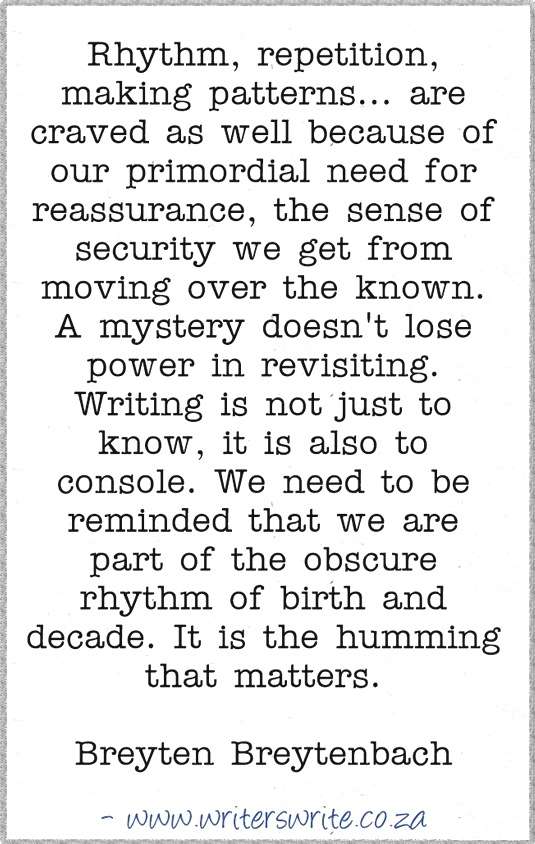 Breyten Breytenbach is a South African writer, poet and painter known for his opposition to apartheid, and consequent imprisonment by the South African government. He is informally considered as the national poet laureate by Afrikaans-speaking South Africans.
Anonymous
---
Punishment by Seamus Heaney

I can feel the tug
of the halter at the nape
of her neck, the wind
on her naked front.

It blows her nipples
to amber beads,
it shakes the frail rigging
of her ribs.

I can see her drowned
body in the bog,
the weighing stone,
the floating rods and boughs.

Under which at first
she was a barked sapling
that is dug up
oak-bone, brain-firkin:

her shaved head
like a stubble of black corn,
her blindfold a soiled bandage,
her noose a ring

to store
the memories of love.
Little adulteress,
before they punished you

you were flaxen-haired,
undernourished, and your
tar-black face was beautiful.
My poor scapegoat,

I almost love you
but would have cast, I know,
the stones of silence.
I am the artful voyeur

of your brains exposed
and darkened combs,
your muscles' webbing
and all your numbered bones:

I who have stood dumb
when your betraying sisters,
cauled in tar,
wept by the railings,

who would connive
in civilized outrage
yet understand the exact
and tribal, intimate revenge.
Thank you for resurrecting this thread, Al, it's a wonderful idea.
R. N. Taber is a poet I discovered, as a confused young gay boy struggling with my identity, by chance while browsing the upstairs section of my local library.
There were little corridors formed by the racks of books that you could slip down and hide in, which I appreciated at the time, though I only realise how much now. I responded to the author's poems so much that I ended up writing the base of his Wikipedia page.
There was a poem called Tenderness about two men in a bedsit interacting with each other, sexually but tenderly, touching each other's chests, taking down their trousers to reveal their white briefs, etc.
Taber's poems are hard to find online - I'd like to share Tenderness, but can't - but he does appear to have a blog that you can find here:
https://rogertab.blogspot.com/
Casted_Runes said:
Thank you for resurrecting this thread, Al, it's a wonderful idea.

Taber's poems are hard to find online - I'd like to share Tenderness, but can't - but he does appear to have a blog that you can find here: https://rogertab.blogspot.com/

I'm so glad you aprove, mate!
Thank you for the Taber prompt. I hadn't previously been aware. I love finding poetry gems in the world!

Nuns Fret Not at Their Convent's Narrow Room
BY WILLIAM WORDSWORTH
Nuns fret not at their convent's narrow room;
And hermits are contented with their cells;
And students with their pensive citadels;
Maids at the wheel, the weaver at his loom,
Sit blithe and happy; bees that soar for bloom,
High as the highest Peak of Furness-fells,
Will murmur by the hour in foxglove bells:
In truth the prison, into which we doom
Ourselves, no prison is: and hence for me,
In sundry moods, 'twas pastime to be bound
Within the Sonnet's scanty plot of ground;
Pleased if some Souls (for such there needs must be)
Who have felt the weight of too much liberty,
Should find brief solace there, as I have found.
Anonymous
---
Throwing Away The Alarm Clock - Bukowski

my father always said, "early to bed and
early to rise makes a man healthy, wealthy
and wise."

it was lights out at 8 p.m. in our house
and we were up at dawn to the smell of
coffee, frying bacon and scrambled
eggs.

my father followed this general routine
for a lifetime and died young, broke,
and, I think, not too
wise.

taking note, I rejected his advice and it
became, for me, late to bed and late
to rise.

now, I'm not saying that I've conquered
the world but I've avoided
numberless early traffic jams, bypassed some
common pitfalls
and have met some strange, wonderful
people

one of whom
was
myself—someone my father
never
knew.