POETRY SWAP MEET: Poetry we don't usually know about, or?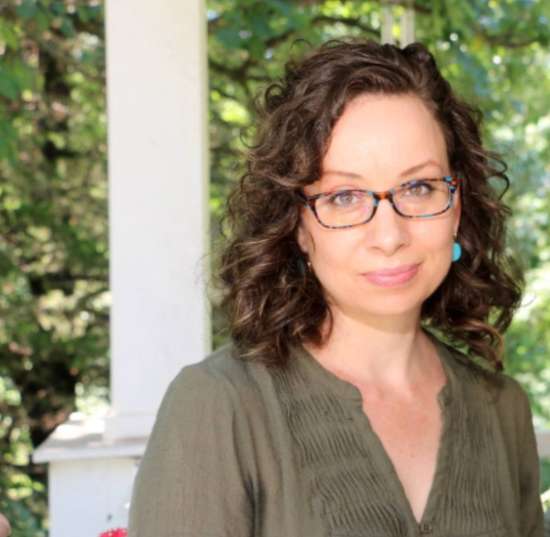 Sarah McKinstry-Brown
LETTER TO MYSELF, 15 YEARS AFTER THE AFFAIR
He said that if he had more lifetimes, he'd give you
at least two. But you really just wanted the one
you made for yourselves between midnight and sunrise
every other Thursday night at the Holiday Inn.
You knew it was easy to be the other woman.
When he pulled you toward him,
neither of you had to work to soften. There was no trash to take out,
no dishes, no children, nothing stacked
between you. Friends said you deserved better,
but deserve had nothing to do with it.
The night he said,
Baby, we were born to bruise,
his hand turned up the stars, and that stupid city
finally receded until nothing was left but the two of you,
famous in each other's arms, your bodies working like cogs,
the thick motel curtains shut tight
against the coming morning.
You didn't even mind the dark that came after,
when he slipped away to drive his kids to school
and you were left to your dreaming,
their small faces, echoes,
slowly coming into focus.
_______________________________
Born and raised in Albuquerque, New Mexico,
Sarah McKinstry-Brown
earned her MFA from the University of Nebraska at Omaha and is the recipient of a Tennessee Williams Scholarship in Poetry from the Sewanee Writers' Conference, two Nebraska Book Awards, and an Academy of American Poets Prize.
David Kirby
MARY WEISS OF THE SHANGRI-LAS EXPLAINS IT ALL TO YOU
A student I haven't seen for months stops by to say hello,
and she's wearing a sundress, and when she gets up to leave,
I see she has a tattoo on her shoulder, so I say, "Hold on
a sec, let me take a look," and when I see
it says, "Poetry is not reflection; it is refraction," I say, "I like that,"
and she says, "You should. You said that in the first class
I took from you." It's times like this that I impress myself.
Not for long, though: the more interesting thing to think
about is not my excellence but the process whereby
we turn our experiences into art that moves others, to do, for example,
what Mary Weiss of the Shangri-Las did when she sang "Leader
of the Pack," recalling "I had enough pain in me, at the time,
to pull off anything. And to get into it, and sound—believable."
We believe you, Mary. Mainly because you're so
restrained when you sing that song, as though you're not really bothered
by the fact that the love of your life has just roared away
on his motorcycle only to be turned into a pile of hamburger
somewhere out on Highway 30. Restraint: that's the thing,
isn't it? Discipline. Self-command. The more
he wrote songs, the more Burt Bacharach's music took odd turns,
became clipped and staccato, offbeat. "One-level records
always made me a little bit uncomfortable after a while,"
he says. "They stayed at one intensity. It kind of beats you up,
you know? It's like a smile. If you have a great
smile, you use it quick, not all the time." Burt Bacharach sounds
like a smart guy. You have to trust the listener to pick up
on the little thing, to change and color it
until it's the biggest part of the song, even though it's the smallest.
And the least true, maybe, in the factual sense.
I don't remember telling my class about reflection and refraction,
but if I did, I was freeing the students from the absolute need
to reflect their world and telling them that
what they refracted was theirs to make, that you can disconnect
your image from reality. Mary Weiss says,
"The recording studio was the place where you could really release 
what you're feeling without everybody looking at you." And the poem
is the place where we poets do the same. Everybody
listened to Mary Weiss—that song was number one
on the pop charts in 1964—and we poets, too, want
to lose ourselves in our early poem drafts so we can write and rewrite
and revise until the poem is so good that everybody loves it,
whether or not they actually end up doing so. When I ask
my former student what other tattoos she has, she says
that's the only one, and when I say, "Wow,
it means that much to you, huh?" she says no, it really hurt.
https://m.youtube.com/watch?v=V5YxtweUxrA
_________________________________
David Kirby
: "In the early '60s, I was obsessed with girl groups: the Ronettes, the Marvelettes, the Shirelles. And guess what? I still am, and with none more than the Shangri-Las, who sang of teen tragedy in a way that made me 'half in love with easeful death,' as Keats said. Their songs are little operas in which people meet, fall in love, die, and are born into eternity through the power of art. This isn't the first poem I've written about Mary Weiss and her soulful sisters, and it won't be the last."
Born November 29, 1944 in Baton Rouge, LA,
David Kirby
is an American poet and the Robert O. Lawton Distinguished Professor of English at Florida State University.
Education: Johns Hopkins University (1969), Louisiana State University.
Sheldon Allan "Shel" Silverstein /ˈsɪlvərstiːn/ (September 25, 1930 – May 10, 1999) was an American writer known for his cartoons, songs, and children's books
On Susan's Floor
Like crippled ships that made it
Through a storm and finally reached a quiet shore
The homeless found a home on Susan's floor
Didn't feel so cold and tired
Stretched out before her fire
Rollin' smokes and drinkin' up her wine
And I remember candlelight
And singing 'til we could not sing no more
Then fallin' warm asleep on Susan's floor
Well now that my song is sweeeter
I think I'd like to greet her
And thank her for the favors that she gave
A stranger I came
My head bowed in the rain to her door
I sat and sang my songs on Susan's floor
In the mornin' I'd go on
Buyin' kingdoms with my songs
Knowin' I'd be back in just a while
Warm in the sunlight of her smile
Well lots of time and songs have passed
I catch myself just looking back
Reliving all the wonder of those nights
That's where I'd be today
If I had only stayed one night more
And sang another song on Susan's floor
Like crippled ships that made it
Through a storm and finally reached a quiet shore
The homeless found a home on Susan's floor
—-Shel Silverstein
Robert Viscusi
( 1941 - 2020 )

PICTURE OF A MAN WITH A BROKEN HEART
In English we say Padua; in Italian, Padova.
In Italian, Basilica di Sant'Antonio; in English, Church of Saint Anthony.
Around the tomb of Saint Anthony in Padua stands an altar.
Around that altar people have left pictures of their parts.
"Saint Anthony healed my arm, and here is a silver arm."
Hammered silver arms hang at all angles, thousands of them.
The cloister museum has hundreds of feet, eyeballs, knees.
Sant'Antonio di Padova, finder of lost things, also heals the sick.
Padova is the seat of an ancient school of medicine.
Many paintings record accidents miraculously survived.
Ex voto. Because of a vow. Each piece records a vow.
"In gratitude for healing my heart, I send this picture."
Some paintings are of children restored to happiness.
There is a plaster cast of two hands.
People send their wedding rings.
Nothing is too small for Saint Anthony.
He will help you find your glasses, if they are what you need.
The picture is at the end of a corridor.
The man is painted looking straight ahead at the viewer.
Above him the heart, whole and aglow.
These rooms have skylights.
A row of silver hearts frames the painting.
In late afternoon silver is golden.
With his left hand, the man is pointing to the old heart.
It lies broken into huge humps of stone.
Artists call this gesture The Confession.
With his right hand the man points to the new heart.
Its red gold aureole distills the afternoon light.
Artists call this gesture The Vow.
Many of the paintings have Saint Anthony in them.
Others seem to be looking at him as if he were standing inside you.
"Thank you for healing me," they say. "Thank you for finding my glasses."
_________________________________
Robert Viscusi:
"Visiting Italy for the first time in 1977, I found myself not merely an American with a passport but also an Italian with amnesia. Thoughts and feelings that had long accompanied my American life now seemed subtle messages from another place, now nameless, written in another tongue, now silent. This rich forgetfulness, these unsettling interruptions, became my subject."
__________________________________
http://www.iitaly.org/magazine/focus/op-eds/article/robert-viscusi-1941-2020
Ojingiri Hannah is a student of university of ilorin, where she studies English. Hannah holds a Diploma in Law degree from Kogi State university, Ayingba and NCE degree in English/Economics from Kwara State college of education, ilorin. She lives in Nigeria.
Infamous Poet
The papers lay pitifully on the wooden pile
Hungry for a scholars ink
The pen pine to be touched
Not with empty inspiration
But words that drip endlessly
And there I sit
Watching their anguish
Not Bard of Avon or Homer
Just an infamous poet
Who Yearn to be loved
-Ojingiri Hannah
Rosemerry Wahtola Trommer
( lives in southwest Colorado )
THE AFTERNOON THE WORLD HEALTH ORGANIZATION DECLARED THE PANDEMIC
That was the afternoon
we watched the avalanches—
dozens and dozens of them
flowing over the cliff bands.
How beautiful they were
from a distance—
bright falls of billowing snow.
They began as dark rumble,
then burst into plume, into rush.
Unstoppable they were.
Powerful. Inevitable.
Such a gift to feel humbled,
to exult in forces
greater than our own.
Later that night, reading
the tumbling graphs,
the sliding accounts,
the unforgiving reports,
I began to understand
the scale of the cliff.
And as everything
I thought I knew
slid over the escarpments
of comprehension,
how clear it all became.
What really matters.
How we're all in this together.
__________________________________
Rosemerry Wahtola Trommer
: "How clear it becomes that we are one organism, how profoundly our actions affect the whole."
Donald McLean III (born October 2, 1945) is an American singer-songwriter, best known for his 1971 hit song "American Pie", an 8.5-minute folk rock "cultural touchstone"[1] about the loss of innocence of the early rock and roll generation.
Vincent is a masterpiece of imagery and emotion:
Vincent
Starry, starry night
Paint your palette blue and grey
Look out on a summer's day
With eyes that know the darkness in my soul
Shadows on the hills
Sketch the trees and the daffodils
Catch the breeze and the winter chills
In colors on the snowy linen land
Now I understand
What you tried to say to me
And how you suffered for your sanity
And how you tried to set them free
They would not listen, they did not know how
Perhaps they'll listen now
Starry, starry night
Flaming flowers that brightly blaze
Swirling clouds in violet haze
Reflect in Vincent's eyes of china blue
Colors changing hue
Morning fields of amber grain
Weathered faces lined in pain
Are soothed beneath the artist's loving hand
Now I understand
What you tried to say to me
And how you suffered for your sanity
And how you tried to set them free
They would not listen, they did not know how
Perhaps they'll listen now
For they could not love you
But still your love was true
And when no hope was left in sight
On that starry, starry night
You took your life, as lovers often do
But I could have told you, Vincent
This world was never meant for one
As beautiful as you
Starry, starry night
Portraits hung in empty halls
Frameless heads on nameless walls
With eyes that watch the world and can't forget
Like the strangers that you've met
The ragged men in the ragged clothes
The silver thorn, a bloody rose
Lie crushed and broken on the virgin snow
Now I think I know
What you tried to say to me
And how you suffered for your sanity
And how you tried to set them free
They would not listen, they're not listening still
Perhaps they never will
- Don Mclean
Jimmy Pappas
THE GRAY MAN
Part I: The Visit
I visited my father one Saturday at the nursing home
where we had put him against his will because he had
become too much work for us, he who had worked hard
all of his life, worked hard to make other people rich,
richer than he could ever hope to be. He was a gray man
now like a character in an Ingmar Bergman movie, so I
looked for the translation of what this all meant, but it
got lost in the white sheets; and I tried to figure it all
out by myself, but I too got lost in the white sheets that
covered his sleeping body. I decided not to wake him,
this gray man who had once been a stark man, who had
once been a man filled with action and life, and I sat in
a chair by his side, sat and looked down at my gray man,
my gray child, I who had become the father and he who had
become the child, our role reversals making the movie even
more complex, more difficult to translate, and I looked again
at the white sheets and saw only white sheets that smelled
of shit and piss. There were no English words, words that
I could understand, words that could explain all of this,
words that could explain him, words that could explain me,
words that could explain all of the things that have happened
between us, words that could explain why we behaved the way
we did. Even Bergman was never fully understandable,
even his words got lost in white shirts and a white background,
but at least he had words, at least there was an attempt at
translation. Here there was nothing, only my gray man, my gray
child, lying there sleeping on his back, waiting for my arrival.
Part II: An Earlier Incident
One day I approached
the nurse at the desk,
I'd like to take my Dad out
for an ice cream cone.
The nurse responded,
I'm sorry but … No.
I'm worried about him.
He could fall out of the car
or get hurt in some way.
For a few seconds
I could not speak.
I wanted to say
like Clint Eastwood
in
Dirty Harry:
Go ahead, make my day,
tell me I can't take my father
out for an ice cream.
I wanted to say
like Jack Nicholson
in
Five Easy Pieces:
Why don't you just
take this sign-out sheet
and stuff it between your legs, and …
I wanted to say
like Clark Gable
in
Gone with the Wind:
Frankly, my dear,
I don't give a damn;
I'm taking him out
for an ice cream cone.
But what I really wanted to say was,
What's the worst that could happen to him?
He could die? Look at him!
He's dying now! It doesn't fucking matter!
He just wants an ice cream cone with his son!
Instead,
I said
nothing.
I acted the way
my gray man
taught
me to act,
respect authority
and do what I'm told,
so I did what I was told.  
Part III: The Gray Man's Arrival
There is something,
something I
want to tell you,
no
I need to tell you,
about
his arrival here.
He did not want to come.
He screamed when he arrived.
He screamed when they put him in his room.
He screamed and begged us to please not do this to him,
but we,
his children,
did it anyway,
did it
and turned our backs on him
both literally and figuratively.
We turned our backs on this gray man.
We left him there.
And now I beg him
(in my mind only)
to forgive me.
But that is not what I wanted
to tell you
about his
arrival.
What I wanted to tell you
what I really wanted to tell you
is that I
I was busy
so
I
was
not
there
no not I.
Part IV: Another Earlier Incident (of Little Importance)
I waited so long for this moment.
I wanted to tell him
that I loved him,
so I waited
and waited
and finally
I said it,
I love you, Dad.
And he said
nothing.  
Part V: The Grand Finale
For my own selfish reasons,
I did not wake him on my visit.
I waited until he woke up on his own.
I sat there for almost an hour,
reliving our lives together
while studying the sheets,
and when he finally
woke up,
he smiled at me.
My gray man smiled at me.
______________________________
Jimmy Pappas:
"My Dad told me before he died about a creative idea he had to make 'mythology cards.' They would be like baseball cards. He would draw a figure from Greek mythology on one side, and on the back of the card would be a story about the drawing. I realized he was sharing with me an artistic dream of his that he could never do now. I promised him that I would finish my first book of poetry and get it published because that was my artistic dream. We all have in us this godlike desire to create."
Anonymous
---
Anonymous
---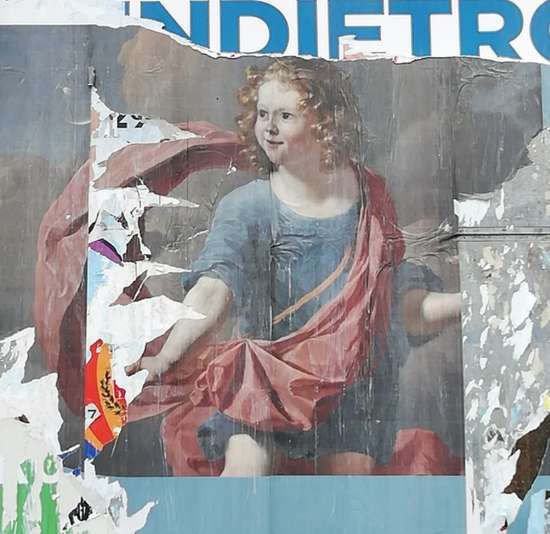 Stephanie Shlachtman
THEY TRIED TO COVER HER UP
She witnessed the induction of matter
into everything, and they, too, witnessed
the induction of matter into everything;
a constitution for the cosmos. But that was
eons ago when the quiet creases
in her dress were fresh, the hemline a
proper length. (They were afraid of those
curls: Those curls would turn to spider silk
in fifteen years or so; a girl who can look you
in the eyes speaks volumes—too
loud.) And now, Canis Major endeavors
to ascribe her effulgence to its unfettered
glow, now that she, too, is a constellation. Now
that she, too, can fill the space without
apology. How did night not see her (of course,
it did) on the lens of a telescope, when
"all luminaries" did not mean "all luminaries,"
when her painted elements were immured
by skylights in a nebula. When her little lights
cried, her older ones, too. When her little lights
died, her older ones, too, because of
disproportional brushstrokes, because of
unequal distances to and from the sun.
______________________________
Comment from the artist, Marc Alan Di Martino:
"What stopped me in my tracks were the last lines: 'because of / disproportional brushstrokes, because of / unequal distances to and from the sun.' Is it a veiled social critique, a treating on painting or an essay on cosmology? Perhaps it's all three together, which is why it has to be a poem."
Albert Camus
Joined the French Resistance during WW2.
Winner of the Nobel Prize for Literature in 1957, Camus was
Born: 7 November 1913 in Mondovi (present-day Dréan), French Algeria. Died: 4 January 1960 in Villeblevin, France due to a car accident.