Poetry competition
CLOSED
23rd January 2021 00:12am
New Member of the Month ~ JANUARY 2021
Anonymous
---
Poetry Contest
Description
New Member of the Month Feature!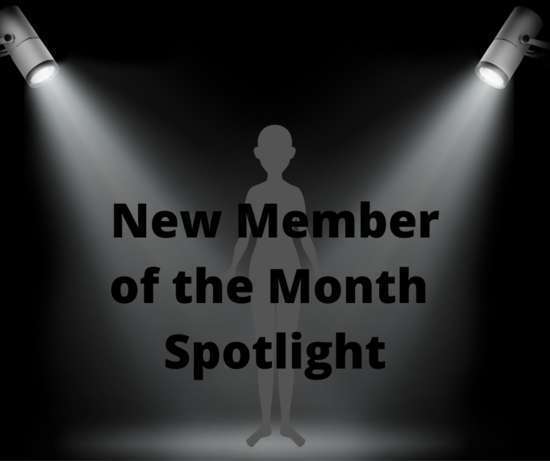 Welcome to "New Member of the Month"!
You have 3 weeks to nominate Your favorite poems from a NEW DUP poet - someone who has been a member for no more than six months.
To locate New Members simply click on 'Poems' > *Latest Poems > Sort Poems > New Members!
Please note the following guidelines when making nominations:
1. Self nominations are not accepted. The great majority of the competitions here are about spotlighting one's own work on a particular topic or theme. This is a chance to nominate that poem that you wish you had written but some other great talent here beat you to it.
2. Until this comp is established, there is no limit to nominations; however, you can't nominate more than one poem per individual new member. *****
3. No DUPLICATES. If someone nominates the same poem the entry will be deleted. If you like it that much wait and vote for it!
4. Any genre except erotica or pornography. This is a Facebook feature and we must adhere to their guidelines.
5. Any member who is banned or disables their account PRIOR to the win will be automatically disqualified.
6. One win per member per calendar year ( 12 months ).
7. All nominators should notify their nominees of nominations.
8. PLEASE DON'T NOMINATE RECENT WINNERS ( see list below )
Any nominated member who wishes to opt out of the competition may do so by messaging me. I will contact the person who nominated you and request an alternate nomination.
Nomination Duration is 3 weeks followed by a week of site voting!
Current Winners:
November 2019: LunaGreyhawk
December 2019: Rachel_Lauren
January 2020: cobralips (Abbey)
February 2020: timkit (Tim Kitchen)
March 2020: Pete82
April 2020: ravisa
May 2020 Lazy_Dead (.Julia.)
June 2020 RiAN
July 2020: syandeneJahia (sy4ndene44)
August 2020: plexus
September 2020: LtDansLegs
October 2020: Bluevelvete
November 2020: Vermillion_Apples (Jacob W)
December 2021: Salient_Swan
Anonymous
---
Our River

Blue's Granpa, a dark Paiute,
was sent to government
boarding schools, that took
him far from this reservation,
that cut his hair, took away
his mother's tongue, his ability
to resist. Now he smolders
in a corner, will not speak
when I visit, sees past me.
 
Or has he seen enough of me
to feel I am too white, a curse.
Will you tell me if I ask you
how Blue died? Resistance
takes forms I do not understand.
 
I was Blue's teacher…more, more;
I need to understand far more
than I do: How a quest took him
to the river to find ancestors
who would take away his anger,
show him what he needs to do,
but now he is lost to all of us.
 
How many days did he hang
from that tree at our river?
 
Did he see visions of ancestors?
Did he search for the past or future
in the mirrors of those waters?  
 
Old man, my blood is also red.
We know more will follow him;
I refuse to believe our elders
will not be there to turn them.
 
I believe I see one standing
by your side, old man. His eyes
ancient pools speaking wisdom.

 
 
Anonymous
---
the oracle
the surreal is incurable--it might open
where i feel temporary,
where the whole world flashes

like moss learning nude verse,
and impart on the being like a festival of lanterns
at first light and now tiresome.

perhaps--i
like an oracle in the throes of ice
and the unborn veil--

try on forgetting

the drusen working under
the emaciation of the widely known
wherein under each new stone i thrive,

and the opal i'd eat out of an owl's heart
is the freakish opulence--
a sad button of the sickness.
Anonymous
---
Drenched In Alcohol Drowning In A Salt Mine
Drenched In Alcohol Drowning In A Salt Mine

This irrational fear that the choices I make are killing me
Punctuates my thoughts like a nail gun,
Crushed beneath the weight of my own demolition
An urge to scream bludgeons me like no other.
I've been up and down and I've looked around,
Seen so many beautiful faces, never ever recalling my own,
A culprit with leaden eyes and a soft smile
That hides all the aches and breaks of his world,
In leather raptured skin I emblaze these tortured scars,
With this drunkards honesty of freedom I echo mumbles and slurs
Because I hate everything, because I'm bored,
I'm bored of breathing, I'm bored of dreaming, I'm bored of being.

Beckoning these burdens with greed at no expenditure of remorse.

Shaking with the triple distilled clarity of a vodka bottle and
A decanter of pain with the careless low of depressants,
A glowing willful joy of tears lubricates the immaculate malfunctions.
I am none but a figure shaped by these words and fears,
A misshapen heart shifting as bile at the bottom of my gut rot.
Seeking love in the most awkward of places, to only find
That it's the most destructive force in human nature,
But I'm a broken man breaking things.
So in my art of self destruction I wait
Like slug bait in a salt mine.
Anonymous
---
Smaller Still
In smaller places
like closed cupboard doors
like between the washer and dryer
where McDuff got stuck
the dog of crooked ears and tail
of whimpers and runtism
in small places  
like tunnels  
near those tennis courts and the creek
like tunnels  
the dear made in forsythia bushes  
in this years sunken behind  
like saggy skin
small enough
for me and Sarah
for me and Eliza  
for Caroline and I
an orangey bloomy spring  
the wide ride  
through neighbor Bobs sprinklers  
the trucker, the fucker
who slashed the forsythias  
and left west on the I-70 Interstate
"Run!" I think were caught  
its a small space, escape
smaller under the covers  
smaller even more in the euphoria of forests  
and contained and concentrated euphoria
glittering breathing cathedral
smaller like tunnels  
like sex
such a small space
your limited lovely face
small space, the waist
is it weird that I stuck my tongue in your nose?
is it odd if I drink straight from the hose?
or when Bridgid the dog  
was lost in the bog  
gone for five wide days
and came back blind  
smaller when she bonked into unseen cabinets
and cried through the night
I think thats how it went  
to remember  
the tangled knot of before  
the before time  
like pavement, hot
like mirage, hotter
like gray carpet
rough rough and rougher
like capers
like solitude  
none had like I
in my small small world
untangling the past  
shrinking shrinking knot
knot del pasado  
pasando por nada
older, smaller knot
older now
smaller still
smaller today
to walk these street and still feel this way
wider the sky
larger the form  
and even so  
I walk this life  
shrinking from shore to shore  
 
Anonymous
---
Mockingbird
Poor little mocking bird sitting on a tree
Bothering no one at all...
Along came 3 crows as cruel as can be
Saying "Are you mocking us you troll"?

Leave me alone said the mocking bird
" Why do you feel the need to bully me"?
Cos that's what we do said the nasty old crow
Asking "Who said you could sit in our tree"?
 
But the mocking bird was wise, wiser than an owl,  
So he replied with nothing at all...
The 3 nasty crows gave him a scowl,  
But the mocking bird proudly stood tall...
 
One by one they taunted him
But the mocking bird stood his ground,
Silence can be a powerful weapon,  
But it's also rather profound..
 
The crows soon got bored with their cruel taunts and jibes,
So they started to shower him with stones..
Clever little mocking bird didnt fly away
Hes already experienced broken bones...
 
Eventually the crows would get bored  
And they'd move on to pastures new...
My mocking bird friend he win that fight  
By teaching them what they never knew...
 
That simply by being courageous  
And by never backing down,
Not to react in a challenging way,  
Or by behaving like a clown..
 
If your smaller in stature it doesn't matter,  
Or if your meek and mild...
Always remain civilised and dignified;  
Even if like the mocking bird your wild.
 
Never become the subject  
Of anyones woeful ways,
Respect yourself and stand your ground  
Because no bully should darken your days...
Anonymous
---
Jo Jo Bulldog
Sitting at my feet
Smelling of mildew
Abused as we know
The head of a Snapping Turtle
A large fighting dog of the 1800's
American Bulldog
Everybody's friend at adoption shelter
Bit 5 people
Animal control "gonna put him down"
PTSD = Post Traumatic Stress Disorder
He was afraid of the dark
Lost a sex organ, driven over by a truck
Hateful mean people hurt this...
Innocent creature
Painful arthritis, I related to him
Only defended himself
Trusted only several kennel workers
And the Volunteers
Putting hot dogs into his
Excited and hungry jaws
He had separation anxiety
Went frantic every time I left
Pushing his head against the fence
He cried out like a puppy
Then we would meet again
I taught him not to bite my hands
And gave him bacon dog treats
The truck came for euthanasia
As I tied my tennis shoes
I felt his big warm tongue on my face
And he said a heroic's goodbye
With tears in his eyes
And in the Devil's grip
I yelled to him...
"See you in Heaven Good Boy"
And they restrained him
And drove down the gravel pathway