Visual Poetry #obsession
admin
DU Webmistress
Mistress of the Underground
1
---
Poetry Contest
Description
Create a visual poem about #obsession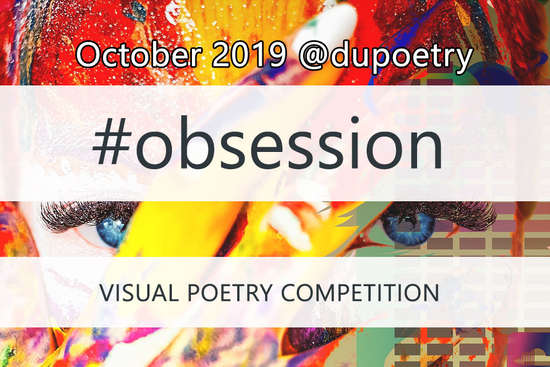 This is our visual poetry monthly competition for October 2019. The winner, and any runners up, will get their poems featured on our official social media accounts.
Create a poem as an image.
Create a visual poem about an obsession with someone or something.
RULES
- 50 word limit
- Your image must include the full text of your poem
- Don't use photos or artwork which are copyrighted by someone else.
- Ensure the text of the poem is large enough, clear and readable even on small devices like mobile phones.
- You agree by entering to let us post your image on our various social media accounts (Instagram etc.). You will be credited by username in the caption.
- Max two entries per person.
HOW TO ENTER
- Create an image with your poem text. This can be plain, or you can include image(s) or a background. Be creative.
- If it's a new poem, then post it on DU using "submit poem". You will need to submit the text of the poem (you'll add the image afterwards).
- Once you have submit your poem, use the "Add Multimedia" button under your poem text to attach the image, selecting the "visual poem" option when submitting the image.
- Use the "Enter Competition" button on this thread, and select your visual poem.
NEED HELP MAKING AN IMAGE?
No problem, we have a group for that:
https://deepundergroundpoetry.com/groups/words-on-a-canvas/discussion/
Why social media? It's a great way to reach a broader audience and get new people interested in poetry.
CHECK OUT OUR PAST WINNERS
https://www.instagram.com/dupoetry/
https://www.facebook.com/pg/DUpoetry/photos/?tab=album&album_id=10155325416078665
Miss_Sub
106
Joined 26th June 2011
Forum Posts: 9239
---
Related submission no longer exists.
BabydoII
Itty Bitty
1
Joined 26th Feb 2019
Forum Posts: 14
---
eswaller
29
Joined 22nd Dec 2015
Forum Posts: 733
---
OxyMoronicMe
G.L.
24
Joined 15th Feb 2016
Forum Posts: 1470
---
wallyroo92
140
Joined 11th July 2012
Forum Posts: 1666
---
admin
DU Webmistress
Mistress of the Underground
1
---
Ahavati
114
Joined 11th Apr 2015
Forum Posts: 12620
---
Congratulations, Oxy and BabydoII! Well done!